This year has been unusual and extraordinary, with events like the COVID-19 pandemic and Black Lives Matter pushing for new business strategies. The annual HR Technology Conference is going digital and we have your definitive guide for making the most of the biggest virtual HR event.
"HR Tech is committed to providing the HR community with what is needed now more than ever: avenues to see new technology to help during these times and expert guidance to help your team cope with the now and what lies ahead," said Rebecca McKenna, Vice President, Global Events and Publisher at LRP Media Group, which puts on the annual conference.
From October 27-30, expect HR Tech to be your number one place to find the research, thinking, and meaningful conversations you need to better prepare for the future. To help you maximize your time and value from the conference, here are five tips:
1. Block out the time on your calendar
It's important to treat this online conference the same way you would treat an event that you would attend in person. With close to 55 hours of keynotes and sessions on the latest HR trends, technologies, and best practices, you'll want to block out time for the events you don't want to miss. Try not to minimize potential distractions as you listen to the sessions or network with other attendees via the peer-to-peer matchmaking tool.
2. Review the agenda
Before the event begins, look over the agenda and see what sessions will be available to you. This will help you begin to prioritize certain offerings and determine what topics are most important for your organization. For example, if you're looking for ways to make bigger leaps on your D&I goals, you might be interested in this session:
Data and Action Drive Improvement in Diversity and Inclusion
Session date and time: Tuesday, October 27 at 1PM ET
The confluence of three factors–the COVID-19 pandemic, Black Lives Matter, and an economy negatively impacting women and minorities–has generated the need for a heightened sense of action to improve diversity, inclusion, belonging, equity, and social justice within and outside organizations. Join this panel moderated by Reframe.Work's Stela Lupushor, one of the most knowledgeable DEI and social justice luminaries, and featuring people analytics leaders from Merck, Panasonic, and Uber as they paint pictures of their work with data and analytics. The panel will cover topics from addressing unique business and public challenges, to getting started with applying data to improve equality for all, to achieving high levels of maturity and achieving great results.
3. Set goals
Going into the conference, think about what questions you want to get answers to and the skills that you want to grow right now.
For example, do you want to know how your organization can be successful with people analytics or how you can make the most of your data coming out of the global pandemic?

If answering those questions is important to you, Why All-Sized Businesses Need People Analytics – NOW with Insperity, HealthcareSource, and Visier, should be at the top of your list. It takes place on Thursday, October 29 at 2PM ET.
Every session will have live Q&A with the speakers, but you can get your people analytics questions answered anytime at the Visier booth in the Virtual Expo Hall. Come talk to our people analytics and workforce planning experts, get your copy of our latest research on female leadership representation, and more!
4. Catch some product demos
One of the most exciting things about HR Tech is that it gives you the opportunity to see the best HR technology under one roof! Steve Boese, HR Technology Conference Chair, once said that "Good HR tech solutions either help the organization win the war for talent, create an environment where people can do great work and help the organization succeed, or enable HR and business leaders to make the best 'people' decisions that they can."
This year, you can see 40 different in-depth product demos right from the convenience of your laptop. You can even live chat with the presenters to get your questions answered in the moment.
Don't miss the Visier demo of our award-winning people analytics platform on Tuesday, October 27 at 3PM ET!
5. Connect with other attendees
In addition to the peer-to-peer connection tool, HR Tech also features a networking lounge, roundtable discussions, and a relaxation lounge to provide you with more opportunities to meet your peers, share ideas, and expand on what you've experienced at the conference. This is an opportunity to connect with industry experts and your peers in a whole new way–all without needing to change out of your pajamas (if you don't want to!).
Got people analytics questions? Ask Visier!
Come visit the Visier booth in the Virtual Expo Hall during all four days of the conference. At our booth, you'll be able to live chat with our people analytics and workforce planning experts, see a product demo, download best practice guides and case studies, and more! You can also connect with us on social media–we'll be live tweeting during HR Tech from @Visier.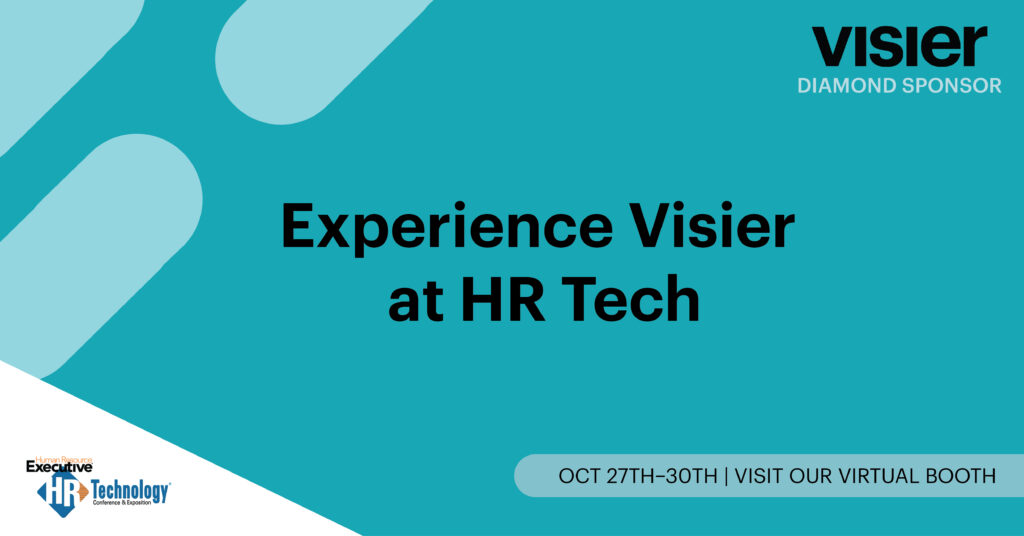 About the author: Visier Team
People-centered ideas and insights by the editorial team at Visier.
Be the first to know!
Never miss a story! Get the Outsmart newsletter.
Related Articles
TRENDS
In August 2020, the U.S. Securities and Exchange Commission (SEC) adopted new disclosure requirements. Here's how people analytics helps you comply.
DEEPER INSIGHTS
With the rise of the People Strategy Platform to enable strategic excellence, HR organizations have more ability to create value for the business.
TRENDS
Ravin Jesuthasan of Willis Towers Watson shares how the health crisis has changed the future of work for the better and why HR 4.0 is a model to adopt.