We've created an e-book to help you navigate the three stages of a crisis with the right workforce questions and data analysis. Download it here. You may also find this checklist on Key Questions to Answer During a Crisis handy. Check it out at this link. Looking for more resources to guide you through crisis management? Visit our Crisis Management Resource Center.
As we respond to the COVID-19 crisis, making evidence-based decisions about our people using data is the best way forward.
This was a key message from our recent open forum on using people analytics for crisis management. During the discussion, leading experts and practitioners in the data and analytics field shared emerging best practices for managing employee safety and business continuity during these uncertain times. You can view the recording here.
Here is a recap of the main topics that emerged:
Ongoing employee safety response is paramount
You can show your leadership team where employees are and who is most at risk by embedding public data into your systems, shared Jeremy Shapiro, Executive Director, Workforce Analytics for Merck. For example, Johns Hopkins University is maintaining a COVID-19 dashboard mapping confirmed cases worldwide. Shapiro emphasized that you should talk to your legal counsel and data privacy experts to make sure you can execute on this appropriately–exceptions to GDPR may apply.
David Shontz, Head of Workforce Analytics & Organization Management, Nokia also emphasized that it is imperative to have a quick snapshot to track everything. His organization has 100,000 employees in 120 countries and things they are doing include, comparing headcount vs. high-risk areas and checking demographic information of their workforce daily.
Dan Lapporte, HR and People Analytics SME for Kaiser Permanente discussed how, as a healthcare organization, Kaiser Permanente needs to differentiate between people in care delivery roles and non-care delivery roles–people on the front lines may not get to stay home unless absolutely necessary. Data is critical for their decision making right now.
It is possible to track if someone has been exposed through self-reported data, said Ian Cook, Vice President of People Solutions, Visier. He mentioned that it will be important to initiate regular pulse surveys to check in with employees and ask: How are you feeling today? Attendance data is also important: it will help you see the spike in who's coming in and who's going out.
Leaders must act with data–and empathy
Dan George, CEO of Piper Key Analytics, shared how a network analysis can help you determine who is critical from a customer service perspective: Who best represents your team in front of customers? When relying on people to quickly adjust operations, who can stakeholders rely on for maximum impact? There was a discussion about how relationships have to take on a new dimension now. Before there was a lack of transparency with leadership teams; now there's going to need to be a lot more information sharing.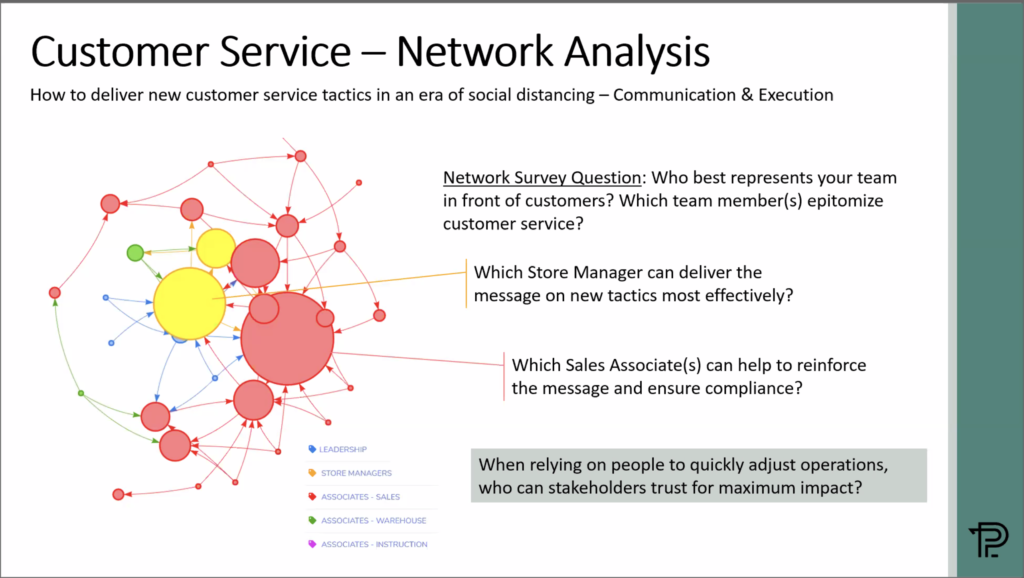 More leaders are starting to say they need to act from a talent or a layoff standpoint, said Jason Averbook, CEO of Leapgen. But he's hearing there is a disconnect between what they need and the analytics they are getting. Analytics leaders need to get involved with the talent management group to help model who the organization should be keeping. Using analytics, organizations can run different continuity scenarios, such as transitioning employees into gig workers. We need to help our organizations think seriously about the impact of layoffs–and its alternatives.
Albert Pang, President of APPS RUN THE WORLD, commented that his organization has been doing a lot of research on the remote work market. They found that 15% of companies in the US do not allow remote work, globally 44% of companies do not allow remote work. This could make things tricky.

There is a great deal of anxiety out there, but people analytics can help alleviate this, advised Al Adamsen, Co-Founder and Executive Director, Insight 222. He referenced Josh Bersin's recent article on the CEO's role of being the chief empathy officer at this moment. We have a crisis of confidence because we are facing uncertainty. How do we instill confidence in the business leaders we are serving? We have to combine internal and external datasets to provide the needed context.
Keep a bigger picture in mind
Cook emphasized that we are currently in the reaction phase of this crisis–the next wave will be about managing people differently. We can't physically see people, so data is the only thing we are going to get.

For people analytics leaders, it's a matter of being bold and stepping in, said Nicholas Garbis, VP of People Analytics Strategy for One Model Inc. Get in on the conversations that are going on with Finance and strategy. There are a lot of level one questions organizations can ask without a lot of data: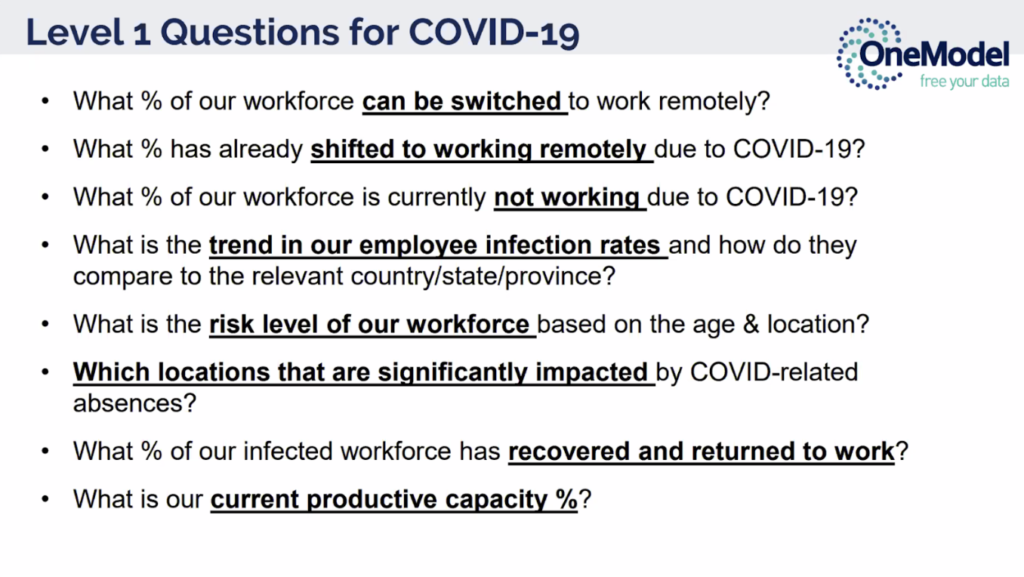 Garbis advises: Between now and when we return to normalcy, there will be reductions. It is important to understand the productive capacity of the workforce: Is it too high or too low? How is it changing week to week?

Lexy Martin, Principal, Research and Customer Value for Visier reminded us how we can use data to build sustainable organizations. Looking back at research conducted from the recession of 2008 to now, the most sustainable organizations had people analytics. Six weeks ago, organizations were focused on diversity and inclusion and going forward, as organizations start thinking about sustainability measures, we shouldn't forget that diverse and inclusive workforces outperform.
We're in this together
If you are responsible for people data at your organization, it's time to lead–but you don't have to do it alone. Get more inspiration from the open forum recording.
Share insights, ask questions, and discover the latest best practices on crisis management and employee safety using people analytics via the #AskVisier LinkedIn community. You can also join the NOW of Work Slack group, led by our amazing partner, Leapgen.
About the author: Visier Team
People-centered ideas and insights by the editorial team at Visier.
Be the first to know!
Never miss a story! Get the Outsmart newsletter.
Related Articles
DEEPER INSIGHTS
The COVID-19 pandemic is changing quickly. As you develop your COVID-19 response plan, here are 5 important questions that employers must ask.
DIVERSITY & INCLUSION
How do you take the leap from knowing D&I improvement is important to doing something about it? Follow these four steps to start changing your organization.
TRENDS
Benchmarks is help organizations determine whether they are lagging behind their industry peers. Find out how to take advantage of evolving benchmark data.