Join HR practitioners all over the world for Outsmart, the global digital summit, LIVE online on June 3-4, 2020. Think iconic keynotes, thought-provoking breakouts, energizing panel discussions, and inspiring conversations–all without leaving your desk! Register for this free event today.
In two weeks, you'll have the opportunity to join HR and people analytics practitioners from all over the world for two days of people analytics and workforce planning learning.
During Outsmart, you'll discover innovative practices to improve employee experience, organizational effectiveness, and more. Our presenters will also provide lessons learned and their strategies for tackling COVID-19 business recovery. (See the full agenda here). Read on to see what else we've got planned to inspire you and help you connect with others in the industry!
Get inspiration
Each day of the conference will kick off with inspiring keynotes. You'll hear from Dr. Roberta Bondar and Dave Ulrich on leading through change and the future of work.
On day one, Dr. Roberta Bondar, a pioneering Canadian female astronaut and the world's first neurologist in space, will kick off the event. She'll share why she believes that the same resiliency she's honed her entire life is what's needed by anyone looking to adapt and thrive in the face of change.
On day two, we'll welcome the "father of modern HR", Dave Ulrich, back to Outsmart. During his keynote, he will share ten tips from his research to help HR leaders find opportunity in crisis.
Grow your skills
Throughout the event, you can grow your skills and understanding of people analytics and data-driven decision-making during:
Panel discussions: Hear multiple perspectives and lessons learned during panel discussions on how to "Put People Analytics Power in the Hands of your Business Users" on June 3 at 1:30 PM EST and using big data to yield surprising insights in "Pushing the Boundaries of People Analytics" on June 3 at 2:30 PM EST.
Breakout sessions: Join thought-provoking sessions such on topics like "How to Save Money by Raising Salaries" on June 4 at 1:30 PM EST and "Scaling the Adoption of Evidence Based Decision Making" on June 4 at 3:30 PM EST.
V Talks: These short TED-style talks dive deep into specific challenges such as "Change Management: Laying the Foundation for a Successful Analytics Journey" on June 3 at 2:30 PM EST and "Making People Data Meaningful in a Crisis" on June 4 at 3:30 PM EST.
Make new connections
Connect with leading practitioners from around the world in the Networking Lounge. Start a chat with other attendees to share ideas and expand on what you're learning at the digital summit. We'll also have chats and Q&A available during every session so you can connect with speakers, get answers to your questions, and share your ideas and experiences on the session topic.
Hear from Visier
We'll be sharing the roadmap for the future of Visier solutions on Day 1–catch our presentation on Weds, June 3 at 12:30pm EST
Got a people analytics or workforce planning question? Ask Visier! You can chat with our experts anytime in the virtual Expo Hall.
Register for Outsmart today
Every year, Outsmart attendees walk away inspired to transform their organizations. Since the conference is taking place digitally this year, the entire event is free to attend and you won't want to miss it!
This is the most exciting people analytics and workforce planning conference yet. You'll experience two full days of learning and networking–and without leaving home! Ready to claim your space at the event? Register for free right now.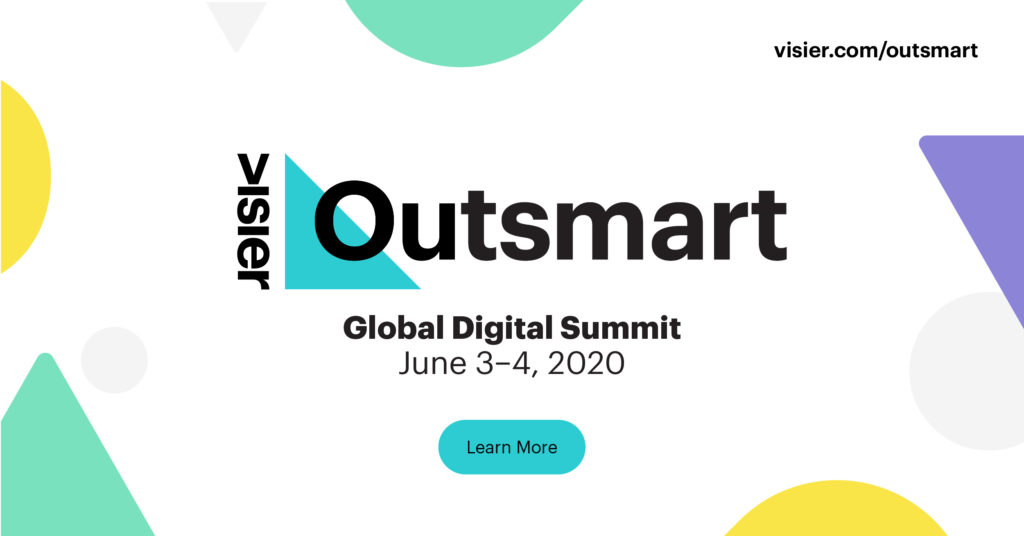 About the author: Visier Team
People-centered ideas and insights by the editorial team at Visier.
Be the first to know!
Never miss a story! Get the Outsmart newsletter.
Related Articles
ASK VISIER
Succession planning means having candidates ready to be promoted into crucial roles. Find out how Visier can provide valuable insights.
ASK VISIER
You're not a compensation expert but you need to advise your managers on compensation? Visier can tell you how well your organization pays people relative to their peers and the market and why this matters.
EMBEDDED ANALYTICS
To discuss how HR tech providers can build products that truly respond to their customers' needs, we brought together three experts.