Trends
6 Min Read
7 Reskilling Strategies That Will Futureproof Your Company
In this Outsmart session, Caitlin Bigsby, Product Marketing Director at Visier, and people analytics practitioners from Willis Towers Watson shared their perspectives on reskilling challenges and solutions. Sign up to watch Outsmart sessions on-demand today!
Advancements in technology have led to a re-imagining of the way jobs are structured. Businesses, countries, and economies as a whole are feeling the impact of these changes, and reskilling plays a critical role in allowing us to prepare for the future of work. While putting these structures in place may be challenging for some, you can't afford to wait. There are steps you can take to make progress today.
This was a central theme in the Outsmart session, The Biggest Challenge Facing HR Today: Reskilling. During this session, Visier's Caitlin Bigsby engaged in a discussion with Shekar NV, Workforce Analytics and Workforce Planning Practice Leader at Willis Towers Watson, and Danny Mason, Director of Talent Management and Organization Alignment at Willis Towers Watson.
Here are seven key takeaways from the discussion:
1. Determine the impact of automation
There's a prediction that by 2025 the time spent on some tasks by humans and machines will be equal. As technology in some areas continues to accelerate, it's more important than ever to factor in how this may change what you need from your workforce.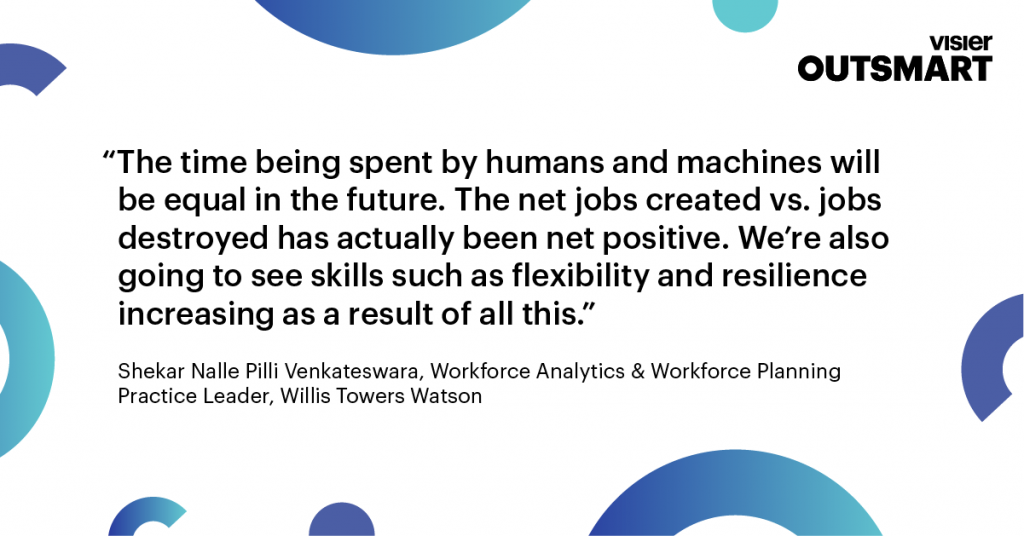 Shekar provided some advice for thinking this through: "Deconstruct a job and figure out what people are really doing. Then, consider the impact of automation on all these tasks. Maybe the split of some of the roles is going to be 50/50 between a human being and a machine. Think about things that are going to get automated, and then reconstruct the job based on the new reality."
2. Take control of your talent pool
There are more jobs available now than there are people looking for jobs. Despite this, there's an idea that what we've gone through in the last year created a surplus of really skilled people sitting around waiting for jobs. It's simply not true. For organizations to fill roles and make progress on DEI initiatives, they need to take action.
"We need to start creating the people we need to fill these roles and create that diversity in the senior levels," said Caitlin.
Shekar echoed this statement and went over some questions organizations need to keep in mind: "You have to think: What will your future demands look like? What kind of talent do you have in-house, and where are your gaps? You're not going to make much progress if you have a leaking bucket."
3. Alignment on skills-based planning
To successfully focus your reskilling efforts, leaders in your organization need to be on the same page. That requires digging into what your organization wants to accomplish, and the structures around reskilling you'll need to put in place for those goals to become reality.
"It quickly boils down to a discussion around what capabilities you need to build," Shekar explained. "What will empower you to execute your strategy and meet your KPIs? What is your organization really trying to deliver? Once you determine that, you can do an exercise to identify some of the critical roles."
4. The need for skills inventory
It's important to start identifying the types of skills that you don't see in your workforce today, and how technology may influence the types of skills you'll need in the future. This may include types of talent that historically weren't necessary for your organization.
"A trend we're seeing is around skills mapping or the development of skills inventories. Organizations are trying to get a sense of the skills they need, and what are the skills they have, and how they can leverage talent in ways that they haven't in the past," Danny said.
The panelists called out critical thinking, analysis, problem-solving, and self-management as the in-demand skills you'll want for your employees.
5. Creating a culture of learning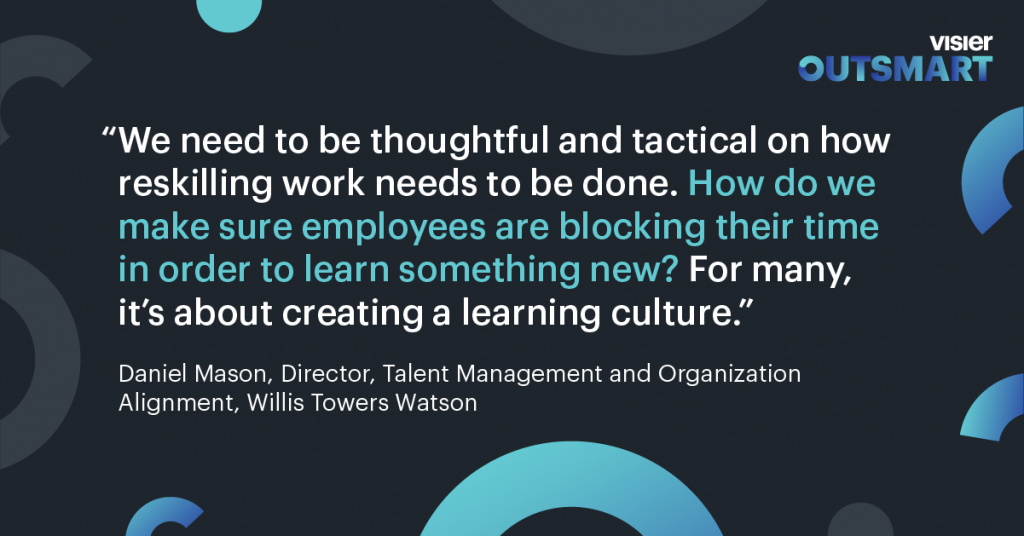 As Danny explained, reskilling isn't just a one-time task for organizations. To future-proof your workforce, you need to take steps that encourage your people to learn, pick up new skills, and evaluate their progress along the way.
"First, is around leadership accountability, making sure that leaders understand that building a learning culture is a key part of their job," he said. "Second, you need to make sure that employees know that it's part of their goals to be reskilling and allow this opportunity for lifelong learning."
Putting reskilling at the core of your strategy now will help you adapt to changes in the future.
6. Invest in resources
Reskilling isn't a new concept. However, organizations that are making meaningful changes aren't just continuing the conversation. They're proactively making investments into their reskilling initiatives, forming partnerships that can help them reach their goals, and measuring their progress.
"They're really focused on measurement, really getting a sense of the ROI on reskilling, and really focused on not just, 'Hey, we got to do this,' but really tracking it and making sure that there's investment," Danny said.
This can take many different forms, including collaborating with community colleges or building your own programs in-house.
7. Discuss career pathing
"Managers and employees are using skills data to have real development conversations, that's very focused on the work that needs to get done, how their talents align, or how they need to reskill to get there," Danny explained.
Careers are no longer linear. Today, it's all about the skills that organizations demand and how they change across different roles. While technology may shift the skillsets you need, it also gives organizations a unique opportunity to embrace and understand career pathing in a whole new way.
Rising to the challenge of reskilling
Your people don't just perform a role in their day-to-day work, they play a critical role in driving business forward.
Investing in them and the skills you'll need in the decade ahead is what will allow your organization to transform and meet the demands of our ever-evolving landscape. As you work to uncover actionable information about current skills and reskilling, people analytics can help.
Be the first to know!
Never miss a story! Get the Outsmart newsletter.