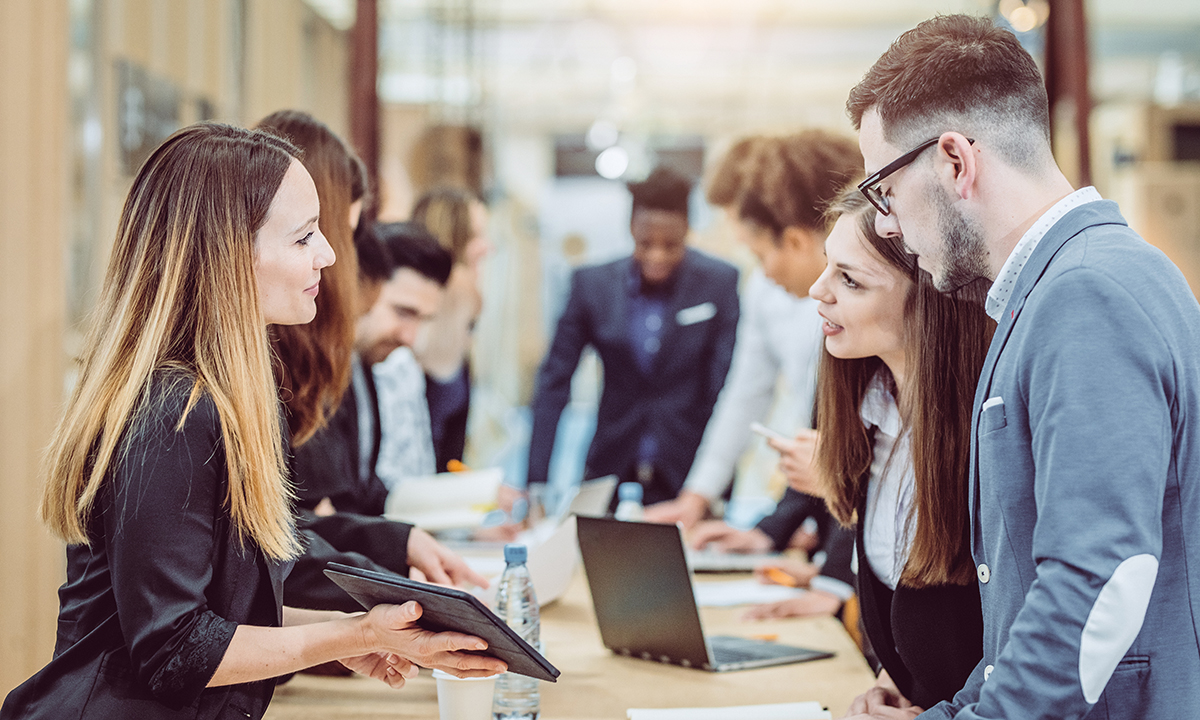 Stephen Bruce is the Managing Director at PeopleFluent business. He has extensive experience in human capital management, HR software, and talent management strategies to advance PeopleFluent, while ensuring the value delivered across its innovative software solutions continues to produce the best outcomes and experiences for its customers.

We sat down with him to discuss talent acquisition, people analytics, and the challenges facing HR leaders today.
---
Visier: In your opinion, how has the current COVID-19 pandemic impacted talent acquisition strategy?
Stephen:
The economic impact of COVID-19 on a global basis in 2020 has required most organizations to look internally to identify the skills necessary to fill roles and reallocate resources to meet the changing needs of the business. Companies are taking a better inventory of their internal talent, skills, and workforce capabilities and leveraging new talent mobility and talent experience platforms to facilitate these processes. We're seeing companies take more time to understand employee career aspirations, rethink jobs, and better align employee journeys to business priorities.
The transformation that organizations were preparing for when 2020 began is still unfolding, only at a more rapid pace than we ever expected. For those who were looking to adjust their talent strategies over the next five years have had to pivot in the course of five months. The question is how quickly can companies embrace the change and maximize their resiliency.
There's also a trend of companies moving to a more permanent remote workforce. And, this "work from anywhere" philosophy is expected to last well beyond the pandemic. It will alter how talent pools and talent pipelines are constructed and managed. Recruiters can expand beyond traditional boundaries of just a few miles, and hiring managers can truly be boundaryless in looking for the best talent.
This also poses new challenges for HR and Talent Acquisition leaders to adapt their recruiting techniques to encourage recruiters to make more genuine human connections with job seekers, and to personalize the candidate experience through the hiring process. With so many people meeting and working virtually, human interaction is critical. Rather than merely filling an open position, hiring managers will need to consistently develop multiple avenues to secure top talent.
Recruiters will also need to continue to adopt new recruiting technologies, including the use of video and personalized communications to conduct virtual interviews and on-demand video screenings. Automation in recruitment will also provide the opportunity to take their efforts digital in a more organized and strategic manner. Improving and expanding on efforts, like candidate experience, workforce data, and recruiter productivity, will continue to be overarching goals for HR teams and hiring managers.
What's the biggest challenge currently when it comes to talent acquisition?
The pool of available talent has changed dramatically in recent months, and recruiters are seeing a significantly higher volume of candidates, often with skill sets outside of the requirements of the open position. This results in recruiters needing to screen hundreds (if not thousands) of applicants for some openings. As economies reopen and more businesses begin to increase hiring, this is the key challenge facing recruiters — how to quickly evaluate and surface the candidates who are best suited for the role no matter when they applied.
While the pool for available talent is expanding, the competition for that talent is increasing as companies plan their recovery. And the demand for quality talent hasn't slowed. For companies looking to build a competitive advantage through talent, the current circumstances present a unique opportunity. To capitalize on this opportunity and to win in this new environment, recruiters will need to focus on identifying the best sources of talent, creating a better candidate experience, and manage an efficient candidate pipeline.
Regardless of which channels recruiters and hiring managers use, the goal is to quickly identify and focus on the most effective ones. That's why it's necessary to evaluate the effectiveness of sourcing channels, from both a quantitative and qualitative perspective. This ensures talent acquisition teams understand which channels are contributing to your candidate pool.
To manage the increasing volume of candidates, recruiters will rely on tools to better sort and rank candidates based on qualifications. Automating this step will allow hiring teams to focus on top-tier candidates who best match the requirements and criteria for the role, which can speed hiring cycles. That's where People Analytics comes in.
How would you describe people analytics?
Organizations sit on an abundance of talent data—including candidate information, performance ratings, career history, skills, training, compensation, and more. This data provides useful insights for HR and the business. Despite the amount of data in their systems, many HR and business leaders have struggled to unlock that rich and valuable talent data to help steer and adjust their talent strategies. People analytics consolidates these data sources into a unified workforce intelligence platform for improved visibility. It provides understanding of the organization's talent and converts raw data into actionable insights and talent strategies to make better people decisions.
Until now, a major hindrance has been finding the connections and correlations in the data—that otherwise may not have been easily visible—that can help identify, focus, and drive specific talent strategies that produce measurable business outcomes. Now we are seeing people analytics systems (like Visier) that allow companies to go beyond simple input/output reporting and deliver analytics to business leaders in ways that enable them to proactively manage their people. So, they can shift from reactive to proactive decision making, with data that tells the story of what's really happening in their business.
From a talent acquisition perspective, people analytics will enable companies to recruit external candidates based on potential, and more importantly, better understand their internal talent; identifying potential candidates for open roles before moving to a more expensive and uncertain external hiring process. Insights gleaned from people analytics will allow companies to plot out the skills they have, project what they will need, and build a more-informed forecast for their hiring strategy.
What are some of the key barriers to getting started with people analytics?
As with any digital transformation effort, getting started may require changing the culture and building the business case for a people analytics strategy. This could include persuading decision makers to invest in the necessary technology to support talent data analysis. That means moving beyond the standard, reactive reporting and reliance on outdated spreadsheets.
To generate true insight also means breaking down data and information silos and connecting disparate systems across the organization. Once the right systems are integrated, recruiters can look through performance data, career progression, and engagement levels to find the attributes of the organization's successful employees who drive the greatest amount of business impact. This can then inform the hiring process in terms of the questions to ask, skills proficiency required, and other traits to consider.
Which talent acquisition (TA) data points do you think are the most valuable, and why?
S: Recruiting, selecting, and onboarding candidates is an expensive process and the payoff for companies may not come for months after a new hire's start date. The best way to measure your hiring effectiveness is by measuring the quality of your new hires—rather than shortsighted metrics like time to fill open positions. Tracking quality of hire can help identify the best candidate sources to optimize recruiting budgets.
While it's the metric many say is needed, many organizations do not track quality of hire today, which is understandable. It's a challenging metric to chase, but it's the one that drives business value and it's critical to any hiring strategy. "Quality" can mean something different to everyone. A good place to start is tenure and retention, employee engagement from the six-to-twelve month mark, and performance rating.
How does data help when strategizing and improving diversity initiatives?
HR leaders understand that diversity is an asset, and a diverse workforce that fosters inclusion can help drive greater levels of innovation, employee engagement, and increased profitability. Developing an effective diversity and inclusion strategy requires a more quantitative approach to capture the demographics of a workforce.
Talent data can provide insights that might reveal unconscious biases or variances in workforce populations that would otherwise not be seen. Effective goals for a diversity and inclusion program require current workforce data. And, metrics used to assess those targets must align with an organization's desired diversity outcomes and business impact.
How do you anticipate people analytics will improve your business?
In this era of constant change, the ability to anticipate demand and optimize workforce strategies in advance is a critical differentiator for any company to stay competitive. As a business, our most important decisions are about people—who we hire, who we promote, how to provide the right training, and how we compensate employees. What analytics can do is help take that data and put into context to drive more evidence-based decisions. The key is ensuring that managers have the data they need at the point when the decisions need to be made, rather than sifting through data and building ad hoc reports.
People analytics will help us see what's happening within our business, and potentially provide insights to develop future leaders, optimize workforce schedules, identify employees at risk—including where skill gaps may exist, and which employees drive the most business impact. For hiring managers, it can point them to the best place to source the best candidates, and find current employees who are the best candidates for those positions.
For our business, we clearly see the benefits that people analytics will be in providing a greater level of understanding around our people, building more efficient processes, and creating a workforce structure that aligns our talent strategy and business strategy.
Want to learn more about how People Analytics can improve your Talent Acquisition Strategy? Download The Big Book of People Analytics: Talent Acquisition to get insights you can put into action right away.
About the author: Visier Team
People-centered ideas and insights by the editorial team at Visier.
Be the first to know!
Never miss a story! Get the Outsmart newsletter.
Related Articles
CULTURE
Moving the needle on diversity and inclusion hasn't been easy. Find out what D&I actions your organization must take in 2021 in this article.
TRENDS
The muscle for agility that organizations needed in a year of uncertainty will continue to be crucial now and in the longer term. Learn why in this article.
CULTURE
Discover how you can use data to support the people moments that matter, solving compensation challenges for your employees and your organization.