We've created an e-book to help you navigate the three stages of a crisis with the right workforce questions and data analysis. Download it here. You may also find this checklist on Key Questions to Answer During a Crisis handy. Check it out at this link. Looking for more resources to guide you through crisis management? Visit our Crisis Management Resource Center.
The COVID-19 pandemic is hitting the global economy harder than any of us could have predicted even a few months ago. Small to midsize businesses are being forced to consider how to restructure their workforce and business model in order to respond. Restructuring during a crisis has left organizations asking questions like:
How can we preserve our current employees?
What areas of the business can we afford to lose?
What is the impact of these decisions?
Where do we start?
In order to answer these questions, business leaders need better workforce data to back their decision making and restructuring. The core questions of who, where, how many, and at what cost are critical for organizations of all sizes. Here are seven questions that business leaders need to ask to prepare for a restructuring plan that will enable them to weather the storm.
Before making any decisions, ensure you've done all you can to preserve your current workforce.
1. Have we leveraged all of the government funding programs available to us?
Before launching into a restructuring action plan, it's important to evaluate all government funding options. Governments are offering a wide spectrum of funding programs to help small to midsize businesses preserve cash and avoid layoffs.
Here are a list of some of the top government programs available to U.S. and Canadian companies:
The Paycheck Protection Program (USA)
The Economic Injury Disaster Loan Advance (USA)
The SBA Express Bridge Loans (USA)
SBA Debt Relief (USA)
Emergency Wage Subsidy (Canada)
Temporary 10% Wage Subsidy (Canada)
Deferred Payments: More Time to Pay Income Tax (Canada)
Establishing a Business Credit Availability Program (Canada)
If you're applying for government loans, review the Visier Government Funding Programs During COVID-19 – Resource Guide to help you get started.
2. What can we expect from natural attrition?
Once you've explored all funding options, evaluate your natural attrition and headcount metrics. Understanding your natural attrition is a step all organizations should take before restructuring. These questions will help you gain insight into what your projected headcount will be over the upcoming months:
What is my projected headcount next year if we implement a hiring freeze?
What is my projected turnover rate next year if the projected resignation rate increases? Or decreases?
What is my projected involuntary turnover rate?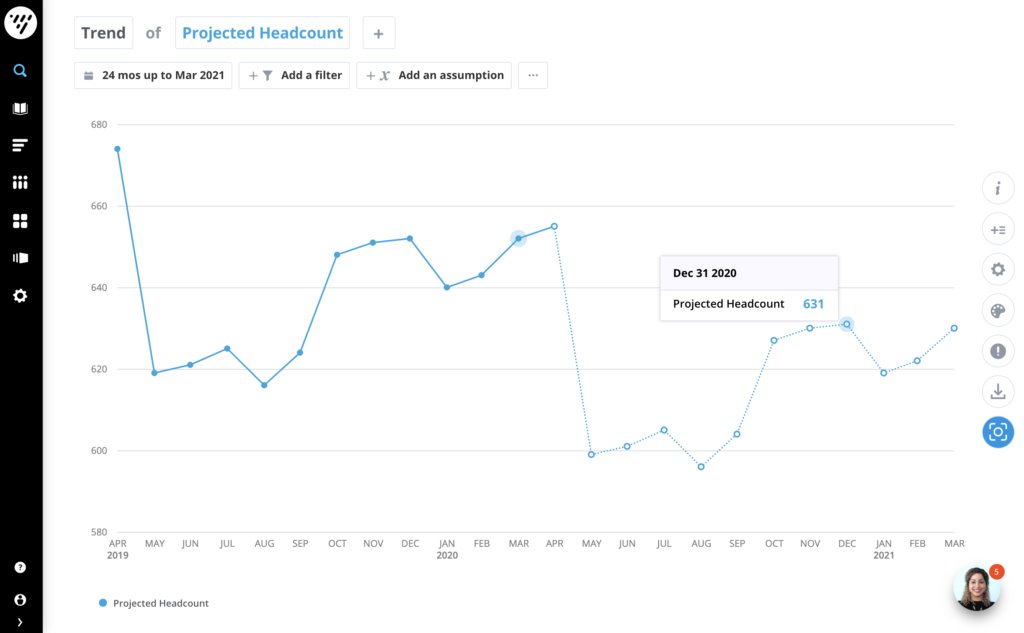 Once you've evaluated how you can reduce furloughs and layoffs, evaluate the key roles required to maintain business continuity.
3. What are the key roles and responsibilities that relate to cash preservation?
To preserve existing customers and revenue while conserving cash to withstand the current economic turmoil, understanding key roles and responsibilities is imperative. Cash is king, and business leaders and executives need to understand which roles and responsibilities directly correlate with cash preservation, regardless of employee tenure.
4. What skills and capabilities do we need to take advantage of for the economic recovery? Which employees have the ability to adapt?
As you evaluate key roles and responsibilities that relate to cash preservation, it's important to look into the future and identify what skills you need to take advantage of for the economic recovery. For example, you may have key personnel who have experience in two functional areas that can support the business in cash preservation today, but adapt to grow the business in the future.
Zoom out and look at the big picture as well. Consider how your business is going to evolve over time. For example, you may need to pivot your business into different markets, or adjust your product offering for a completely different audience. Identifying which employees are willing to acclimatize in ambiguity could make all of the difference.
Once you've evaluated key roles and responsibilities for business continuity, you may still need to make difficult decisions.
5. Where are our people allocated? What do they cost, and what is the cost per head?
Identifying the cost of your workforce is imperative when creating a restructuring plan, and will ultimately help you make smarter decisions. To begin, Budgeted Total Rewards per FTE is your fully loaded cost on a per full-time equivalent basis. You can then break that down and analyze by role, department, tenure, and location. If you compare this to the number of employees and the total cost, you can understand where you have allocated your resources and at what cost basis.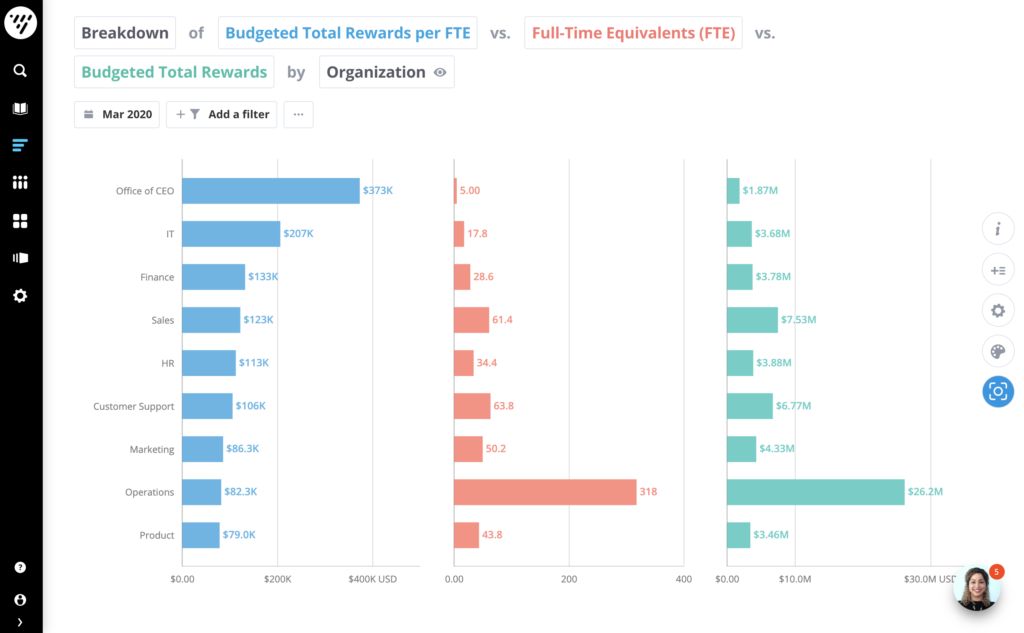 6. I know what we plan on paying, but what are we actually paying?
Understanding your actual workforce costs is going to help you achieve deeper insights when designing your restructuring plan. You can analyze your actual total reward cost by payout type to help you understand the breakdown of your total rewards. This is extremely helpful when you break down payout type over time, to see which quarters are heavily influenced by factors like bonus payouts and overtime pay. Here are some things you may want to consider:
What are we spending year to date when actual salaries, bonuses, benefits, commissions, and all aspects of total rewards are taken into account? (These costs are paid out through payroll.)
How does that compare to previous periods or plan, and where can we trim?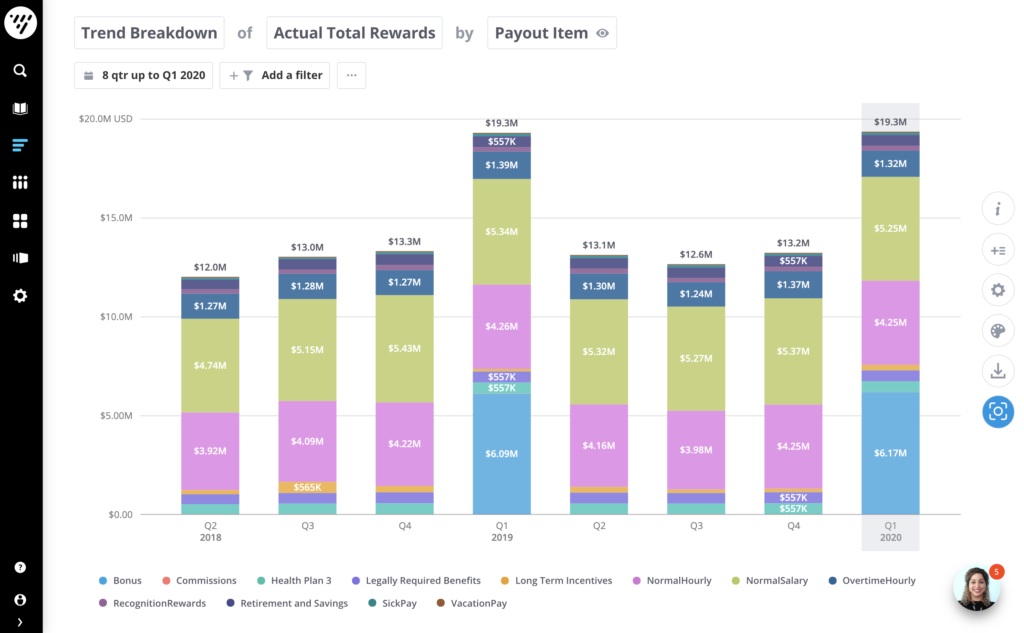 7. If we need to make tough choices, how much impact will they have?
As you plan to restructure your business, your goal is to get lean and come out of this crisis stronger than you entered. So where exactly is the right place to focus? Understanding the impact of the decisions you plan to make can play a huge part in restructuring planning. Consider the impact by reviewing these questions:
What is the cost of my entire organization each quarter?
How much of that cost is attributable to low performers?
What is the difference between my overall cost and cost of low performers?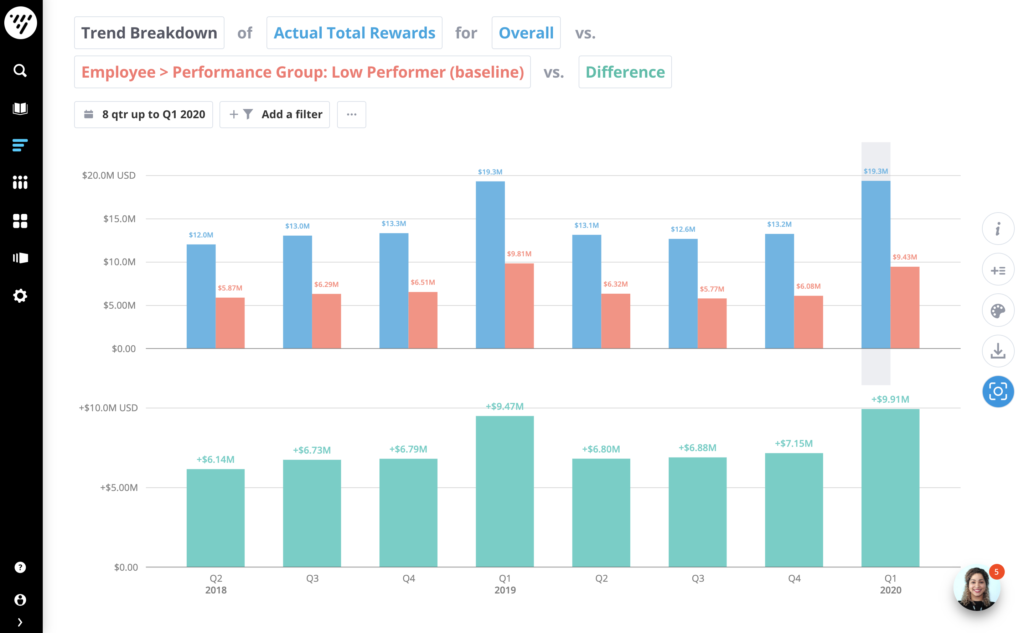 Preparing for the recovery phase
When making decisions about restructuring your business, organizations need to use data to back their decisions. It starts with understanding the options available to you during the pandemic, to preserve as many employees possible.
As you move forward, having insight into key roles that affect cash preservation, and allow you to adapt to the environment is imperitive. From there, you can dive deeper into workforce data to gain insight and clarity to make tough decisions, if needed. In the long term, this will pay dividends when putting together recovery plans to pivot and potentially rehire key roles once the pandemic has settled.
Learn from the crisis management open forums
Discover how SMBs are using HR data and analytics during COVID-19 and to strategize for the uncertainty ahead. The recordings of our past open forums are also available in our Crisis Management Resource Center.
Share your People Data insights #AskVisier
Share insights, ask questions, and discover the latest best practices on crisis management and employee safety using people analytics via the #AskVisier LinkedIn community.
About the author: Visier Team
People-centered ideas and insights by the editorial team at Visier.
Be the first to know!
Never miss a story! Get the Outsmart newsletter.
Related Articles
PRODUCT INSIGHTS
People analytics teams are in overdrive to make critical decisions that impact their employees and their customers. Here's how Visier helps employers.
CULTURE
Ask these six questions of your workforce data to help you support people on the frontlines and put them in the best position to help patients.
TALENT MANAGEMENT
With an agile framework for decision-making guided by real-time data, organizations can manage fluctuating talent demands in the face of uncertainity.