Outsmart, the leading people analytics and workforce planning conference, takes place online on May 5-6, 2021. It's free to register so save your spot today! A solid change management strategy is woven into many of the success stories you'll hear at Outsmart so we're excited to bring you this article on the topic. Come back everyday leading up to the conference for more great insights. Enjoy!
Looking for the best way to achieve the potential value of people analytics? It's no secret that the significance of this technology is growing.
Research by Janet H. Marler, PhD., Professor of Management at the University of Albany and Lexy Martin, Principal, Research and Customer Value at Visier validates that organizations stronger in people analytics and associated practices, have stronger financial performance–at least 7% greater in return on assets and 8% in profit margin.
We're now past the early adoption stage of people analytics and organizations are looking for how best to achieve that elusive ROI. Proper change management is part of the answer.
Prioritize defining what "great" looks like
Change management for people analytics starts by first defining a vision for this technology that ties into your strategic business objectives. Being "data-driven" and "insight-led" are common reasons we've heard. An equally important part of an organization's vision is to define the expected value, while also recognizing that desired value is dependent on the data available from which to improve decisions.
For example, NCI invested in people analytics in order to address concerns over employee turnover, identify key talent, and tie employee engagement work to business results–but also be able to easily explain the reasoning behind the numbers to managers.
For example, instead of managers saying, 'recruiting is not getting me enough candidates,' the team uses Visier to show managers the data that shows they got 50 candidates, but the lengthy interview process resulted in candidate attrition. Meetings are now a collaborative conversation where HR and the business can dig in together to see where help is needed in the process.
After that, the next step is to set goals for people analytics that tie back to what matters to the business.

Put people analytics into your organizational context
The "why" of moving to people analytics starts by putting your efforts into the context of your organization's key strategies and issues. These are often financial in nature, centering around expected growth, profit objectives, and margin expansion. Once you identify these organizational issues and objectives, develop your people analytics goals by answering the following questions:
What, if any, are the limiting factors to accomplishing these goals?
What are the talent issues surrounding these factors? Is it how you acquire and develop talent? Is it how you reward and keep employees engaged?
Do you have issues with leadership capabilities?
Are there any big decisions you need to support such as an acquisition, an expansion, or a layoff?
Will you need to bring together financial and customer data along with people data to answer any of these questions?
To get even more granular and tactical, look at what business and/or HR drivers are behind your investment in people analytics.
In other words, what matters most to you and what will put you in the best position to achieve your business goals? Do you want to improve retention, measure the effectiveness of HR or business initiatives, reduce your effort to provide workforce insights to the business, and/or need to get data into the hands of people managers or business leaders?
When you have these answers, then ask yourself the most important question of all: Why does any of this matter to your organization?

Quick case study: From vision and goal-setting to real results
Once you've got your vision, goals, and change management strategy in place, your chances of people analytics success will be even better.
Take the example of this regional specialty hospital, who put their people analytics efforts into the context of their external labor environment and the increasing costs of turnover. They had to compete for hard-to-find roles, while also facing a growing shortage of qualified candidates in critical positions, such as clinical technicians and registered nurses.
They did a cost of turnover analysis to show the impact of current turnover and the potential for improving it. They even defined these costs using local labor costs rather than national healthcare salaries to bring home the costs for their executives. Their analysis showed they could save up to $15 million over the next three years by addressing the reasons for turnover. They also used Visier to to get up to speed and quickly produce other measurable results:
14% reduction in 12-month voluntary first-year turnover after one year, resulting in top quartile performance amongst peer organizations
Validated that a change to living wage (increasing it to over $14) was more cost effective than the expense of chronic turnover
Moved from bottom quartile to above median performance amongst peer systems in employee engagement
Complete your people analytics change management strategy
With your people analytics vision, objectives, and "why" in place, you'll have the foundation needed to set the rest of your change management plan, which should include establishing standard data definitions, achieving alignment between HR, Finance, and IT, developing data governance practices, and building the right people analytics team. (Learn more about creating this multi-prong strategy in Leading Practices in People Analytics Change Management).
Discover more great people analytics strategy stories during these Outsmart sessions:
Business Success Through Analytics: How to Design a Winning Enablement Strategy on Wednesday, May 5 at 2:30-3:15pm EST with RJ Milnor of Uber and Visier's Ian Cook
Accelerating Growth through People Strategies on Thursday, May 6 at 1:45-2:30pm EST with experts from Insperity, PeopleFluent, Paycor, and Visier
Don't miss all these great sessions. Register for Outsmart, the free digital conference, today!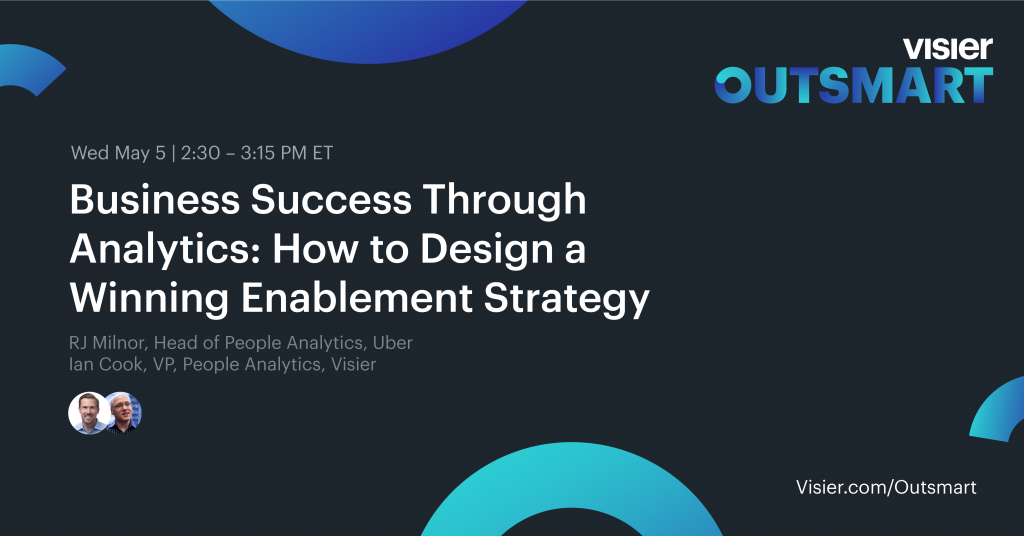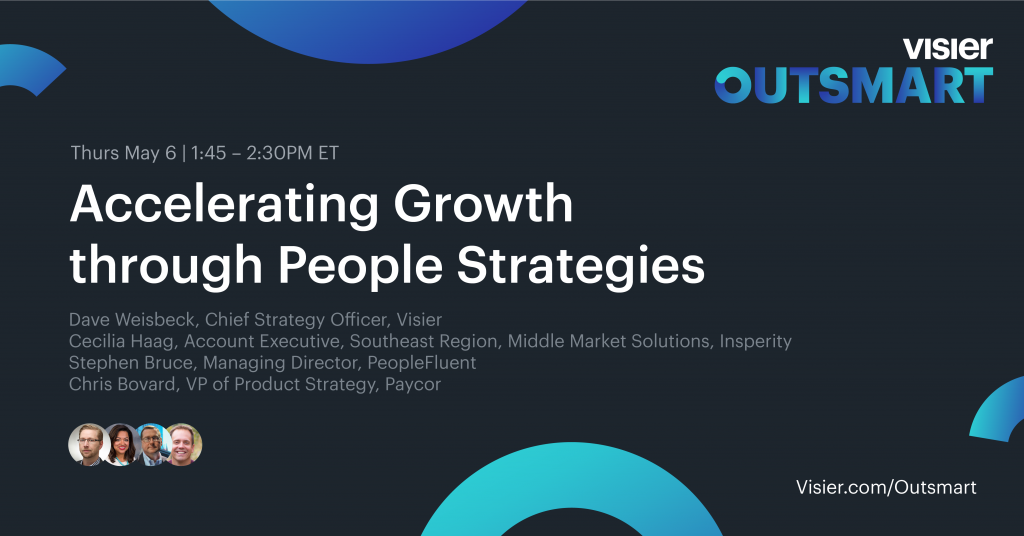 About the author: Visier Team
People-centered ideas and insights by the editorial team at Visier.
Be the first to know!
Never miss a story! Get the Outsmart newsletter.
Related Articles
PRODUCT INSIGHTS
Recruiting diverse talent is easier with this proactive framework for finding the best way to leverage your recruiting and talent data.
PRODUCT INSIGHTS
Industry experts, Stela Lupushor and Nigel Dias, give advice on what to consider when learning from others in the people analytics community.
TALENT MANAGEMENT
Exciting research shows the causal link between people analytics and improving the business performance of enterprise organizations.