Great managers are turbochargers for team and business performance. In fact, managers account for 70% of the variance in team engagement, according to Gallup.
So when good managers leave an organization, the impact is significant. There are many intangibles — like workplace disruption and the loss of critical knowledge — and direct costs to consider.
Not only are the direct costs of hiring replacements expensive, but there are costs associated with lost productivity while new managers are coming up to speed, as well as the lost revenue while a position is vacant.
High-performing managers are worth holding on to, and designing initiatives to retain them is paramount. In a growth economy where unemployment is low, employees tend to job hop. Conversely, during a downturn, employees still voluntarily quit, and holding on to critical managers is important to keep the organization running when times are tight.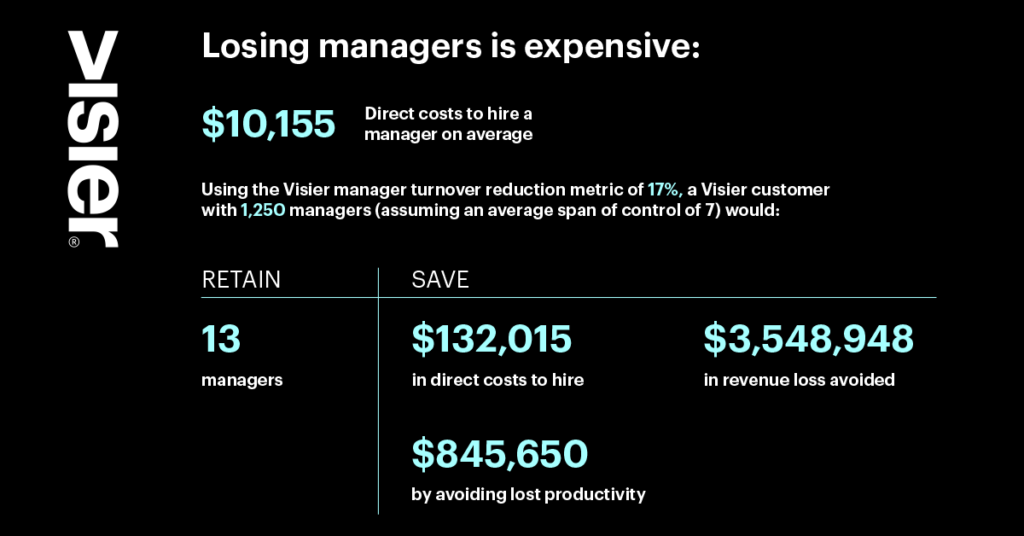 Reducing Manager Turnover: Does People Analytics Drive Results?
In terms of addressing manager turnover, a big question for many HR leaders is whether people analytics actually delivers value. Clearly, there is an opportunity to succeed with people analytics: One U.S. banking franchise reduced annual turnover for customer account managers by 44% with our people analytics platform. Our platform also helped an analytics company achieve $6 million in savings through turnover reduction.
But the question remains: does people analytics consistently help organizations reduce manager turnover?
To answer this question, we compiled a report aggregating anonymized Visier customer data, from more than 20 enterprise companies representing over 600,000 employees.
We analyzed the turnover of customers using Visier People for at least two years compared to market rates and found two main insights:
Insight #1: Visier customers beat their peers in retaining talent overall by 3.5%
Insight #2: Visier customers lowered manager turnover by 17%
This is significant in terms of bottomline impacts: our analysis (which takes into consideration the direct and indirect costs of manager turnover) shows that organizations with 10,000 employees and an average turnover rate of 5.4%, could achieve over $4.5 million dollars in total savings from retaining more managers.
For a deeper dive further into these key findings, the true costs of manager turnover, and turnover reduction interventions, download the FULL REPORT HERE.
We also invite you to and assess your potential cost savings from improving manager retention by using our Manager Turnover Calculator.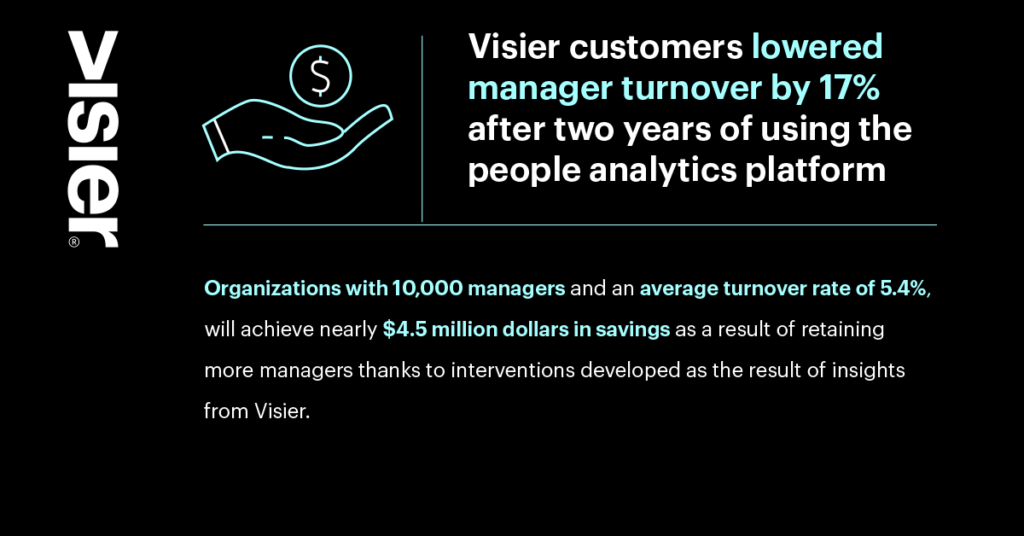 How People Analytics Helps Organizations Drive Manager Retention
Without the help of people analytics, retention programs are often spread thin across the organization, which increases costs and decreases effectiveness. People analytics helps HR organizations sharpen their focus and apply dollars where they will have the most impact. With the right people analytics platform, an organization can:
Identify the key drivers of resignations, which allows HR to develop refined retention programs by targeting root causes
Drill down to understand current and historical levels of turnover across tenure, roles, teams and geographies
Review external benchmarks for a frame of reference to determine how internal turnover results compare to others
At the end of the day, people analytics can help HR leaders identify which challenges and rewards are motivating managers to stay or leave the organization. With people analytics, HR leaders can design the right interventions — without having to rely on guesswork.
About the author: Lexy Martin
Lexy Martin is a respected thought leader on HR technology adoption and value achieved. Known as the originator of the Sierra-Cedar HR Systems Survey, she now works at Visier with customers to support them in their HR transformation to become data-driven organizations. Lexy is Principal, Research and Customer Value at Visier.
Be the first to know!
Never miss a story! Get the Outsmart newsletter.
Related Articles
LEADERSHIP
Learn how you can set HRBPs for success when it comes to becoming people anlaytics evangelists and championing data-driven decision-making.
TALENT MANAGEMENT
4 Ways to Build Agile Teams Using People Analytics | Visier People Analytics is a cloud-based analytic application designed to answer critical workforce strategy questions.
PRODUCT INSIGHTS
How Intelligent Automation Improves HR's Business Impact | Visier People Analytics is a cloud-based analytic application designed to answer critical workforce strategy questions.