The company with the best talent will often win, but talent alone is not enough. Talent is wasted if those who possess it are not given the freedom to do what they believe is right, or are not aligned with the company's strategy. Great HR leaders understand this and can demonstrate how workforce dynamics impact business outcomes.
At the same time, talent is very expensive. Total human capital costs average nearly 70% of the operating expenses of most organizations. Talent costs are also expected to rise faster than other business expenses: the aging and slowing demographics of the developed world and China make this a near certainty.
This means that, in addition to considering human dynamics, the modern CHRO has the challenge of helping the company develop resource plans that are matched to financial expectations while delivering or exceeding desired business outcomes. However, new survey data released by Harvard Business Review Analytic Services reveals that reality falls far short of this objective for HR leadership. According to a poll of 362 executives, including CEOs and CHROs, the majority of respondents said CHROs are not meeting demands for cost-driven, business-focused, and fact-based HR leadership.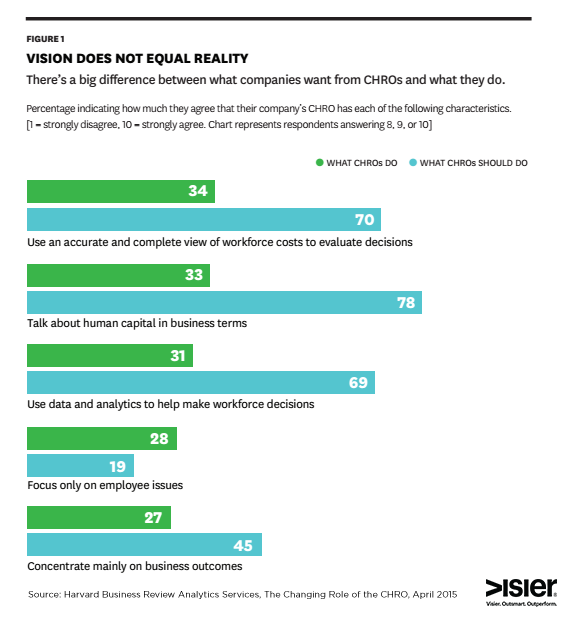 While most executives say they want their organizations to adopt a strategic, data-driven, and analytical approach to HR, 34 percent of poll respondents reported their companies have done nothing to help HR to make the transition, and no more than 30 percent have taken any positive steps.
Nonetheless, we see an increasing number of HR professionals who are breaking through the corporate inertia using data-driven, cost-focused workforce strategies. This evidence-based approach is enabling them to achieve the following goals:
1. Align programs with critical talent needs
Operating executives want to discuss talent within the context of revenues, profitability and market share. To speak the language of the business in a meaningful way, HR needs to know which employees are critical to both current and future company success and to be able to understand the cost impact of decisions about those employees. This approach requires a rapid, multi-dimensional analysis of all current employee data. When properly understood, a clear picture emerges of key priorities for HR programs in areas such as recruitment, succession planning, and retention, allowing the business to target the right people when examining workforce trends and planning for the future.
Those HR leaders who have knowledge about where the focus on talent must be for the business to succeed will effectively influence the rest of the executive team.
2. Move from "what happened?" to "what will happen?"
As a CEO, I always look to flag potential problems that could impact the business in the future. Strong HR departments can use analytics to uncover bumps in the road ahead and identify predictors for underperforming elements of the organization so that they can be proactive instead of reactive.
Consider retention as an example: the traditional approach is to develop a turnover dashboard and look at how regrettable turnover is trending by role, performance, or other dimensions. Then most organizations implement several programs designed to test suspected causes of turnover and wait to see the results those programs produce on the dashboard.
In contrast, the strategic HR leader is armed with data that reveals answers to key questions, such as: "Who is likely to leave next?" or "Which roles are critical to business strategy and outcomes?" From this knowledge, useful and highly correlated statistical projections can be made. For example, knowing which salespeople are most likely to leave, how critical they are to generating revenue, and why they may decide to leave, it is possible to focus the appropriate retention programs on the right individuals or to develop a pre-emptive recruiting plan, without having to wait for the results of test programs to show up on a dashboard.
As described in a recent WSJ article, semiconductor maker Micron Technology Inc. is using statistical projections in its efforts to reduce turnover among first-year employees. Having discovered that workers are more likely to leave if their job hadn't been accurately described when hired, Micron is now focusing on creating clearer job descriptions and interview scenarios.
3. Link talent and cost implications
Unlike financial departments, HR does not have the tradition of closing the books every month or quarter, and therefore lacks a universally accepted set of data that the entire organization trusts to be accurate and current.
This is especially relevant to organizations going through a merger or acquisition. Acquisitions are a high stakes game — executives are expected by shareholders to generate high and predictable returns from this type of risky investment.
When HR can access the TCOW, it gains a complete view into what is driving talent costs and can plan more accurately for the future. Critically, it gives HR the facts to support the talent needs of the combined organization while these issues are still being debated in the context of profits with Finance and the C-suite.
The Evolving Role of the CHRO
The "new" CHRO is an assertive, data-driven, strategic leader, who demonstrates business creativity and innovation, takes on responsibility for contributing directly to business performance, and arms their organization with the tools needed to be more fact-based in workforce decision making.
This is an exciting time for HR leaders: with technology advances, HR no longer needs to rely on IT or data scientists for support when gathering workforce data. The talent function can make an impact — on the whole business, not only on people management — by guiding the business leaders on the affordability of the resources needed to meet business objectives.
In a world where retiring workers outnumber new arrivals, the data-oriented CHRO will become a strategic player indeed.
About the author: John Schwarz
During his tenure as CEO of Business Objects, John doubled the company's revenue to more than $1.5 billion, executed seven strategic acquisitions, and negotiated the company's successful sale to SAP. He founded Visier, building on his many years of experience to invent a new approach to answering business intelligence questions. The objective was to fix the perennial problem where business users spend a lot of money on IT and get little or no benefit in return. John is a water baby, always to be found on or in, but never more than a few feet away from a (preferably warm) ocean.
Be the first to know!
Never miss a story! Get the Outsmart newsletter.
Related Articles
LEADERSHIP
Ray Wang, CEO of Constellation Research, answers a few questions about what strategic HR professionals can do to thrive in an era of digital transformation.
LEADERSHIP
Strong CHROS are crucial to business success. Learn about the new HR Leadership Revolution revealed in new survey results of business executives on CHROs.
TRENDS
Workforce Planning 101 infographic - Visual Guide to the What and Why of Workforce Planning. Learn everything you need to know to create an effective plan.