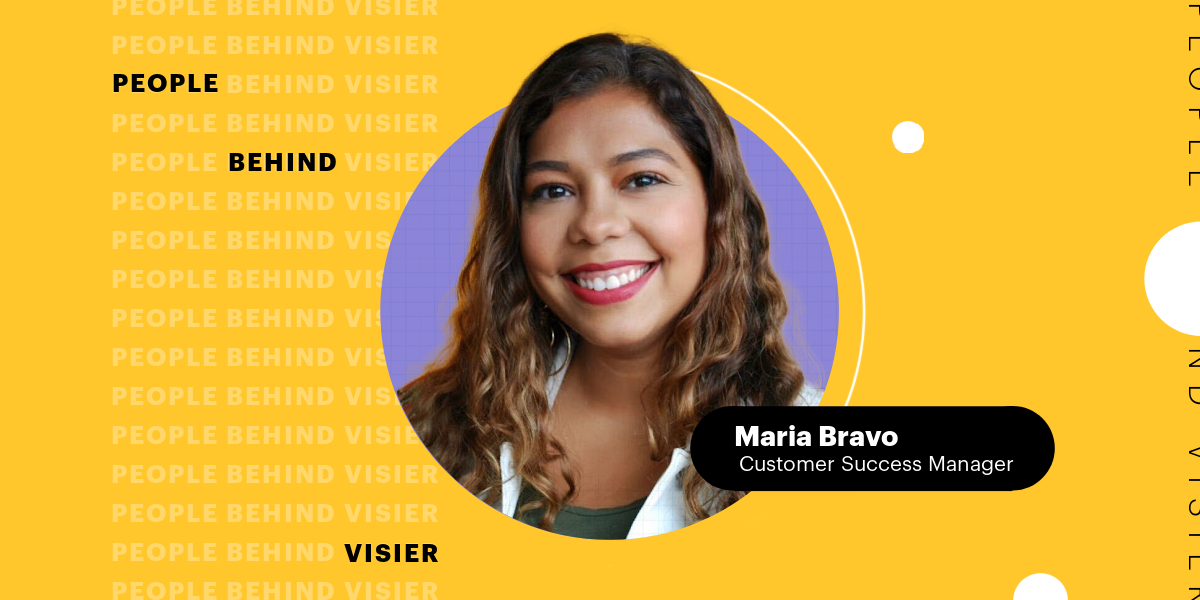 Name: Maria Bravo
Title: Customer Success Manager
Residence: Vancouver, British Columbia
Hometown: Maracaibo, Venezuela
Maria's first encounter with Visier was at an annual TechPong event in Vancouver, where a friend introduced her to Visier. Maria was impressed by the product and the passion that the employees had for it. Coming from a computer engineering background and having an interest in psychology, she saw the potential for what Visier did and, soon after, joined us as a Customer Success Manager.
Maria's role is to make sure that the needs of customers align with the way they use Visier's solutions. "The Client Success Manager is like the director of an orchestra," she explains. "My role is to bring all the teams from different stages of the customer journey together and ensure that everyone has an understanding of the greater picture to make the customer feel supported and satisfied."
Let's get to know more about Maria, her work and her life!
What's your motivation for doing what you do?
Even though my role is to focus on our customers, I want to make sure that all stakeholders are set up for success! I find it fulfilling when everyone is successful together, from project teams to technical support to our valued customers.
What's your top tip for good collaboration?
To me, the most important skill is emotional intelligence and empathy. Try to put yourself in the shoes of all the different people that you're working with to understand their perspective: what matters to them as a person and what matters to them as a professional.
What's your work-from-home setuplike?
I've got a typical desk setup, but the most unique part is my jungle-themed wall! It's all plastic but my customers are really entertained by it, and they actually give me ideas for the wall when they see it in the background. It's sort of become this crowdsourced creative effort.
What's the most exciting part of your job?
Seeing the impact that our solution has from a human perspective. For example, seeing employees who were promoted because of data that Visier surfaced for them. I love that we're empowering organizations to make better decisions about their people.
What brings you to work everyday?
At Visier, everyone is so passionate about our customers, and there's no ego when it comes to deciding who jumps in. You'll have our CTO and VP ready to roll up their sleeves for the customer just as much as anyone else.
Best advice you were ever given?
My favorite piece of advice comes from my dad, who came from a very challenging economic background. One thing he told us is to always stay hungry and to always be driven.
Do you have a fun fact about yourself?
I have a fake tooth because I didn't listen to my mom! I was running around with my cousins when I was about seven years old, and my mom kept telling me to stop. I slipped and just like a baseball player trying to make it to home base, I slid straight into the wall, hit my teeth, and now I have a porcelain tooth. So, listen to your mom, kids!
What song do you have on repeat right now?
Tattoo Remix by Rauw Alejandro & Camilo! It always puts me in a good mood.
What was your dream career as a kid?
As a teenager, I used to watch Dawson's Creek, and there was this really cool therapist who was super accurate and insightful. I wanted to be a therapist to be that person who sort of verbally smacks you in the face to ground you. Now, I sometimes joke that part of my role is to be the customer's therapist–listening to them and giving them the right tools.
What are you most looking forward to after the pandemic settles down?
Travelling! I want to go somewhere warm, ideally Aruba. It's very close to my home country, so it always feels like home but I still have things to explore there.
What four people/characters would you invite to a dinner party?
I'm sure a lot of people would think about famous people, but given the situation in my home country, I doubt there will be a day where my three best friends and I can sit at the same table and have dinner together again. My dream dinner would be to sit down with my four best friends and eat brownies like we used to do together!
About the author: Visier Team
People-centered ideas and insights by the editorial team at Visier.
Be the first to know!
Never miss a story! Get the Outsmart newsletter.
Related Articles
ASK VISIER
Succession planning means having candidates ready to be promoted into crucial roles. Find out how Visier can provide valuable insights.
ASK VISIER
You're not a compensation expert but you need to advise your managers on compensation? Visier can tell you how well your organization pays people relative to their peers and the market and why this matters.
EMBEDDED ANALYTICS
To discuss how HR tech providers can build products that truly respond to their customers' needs, we brought together three experts.