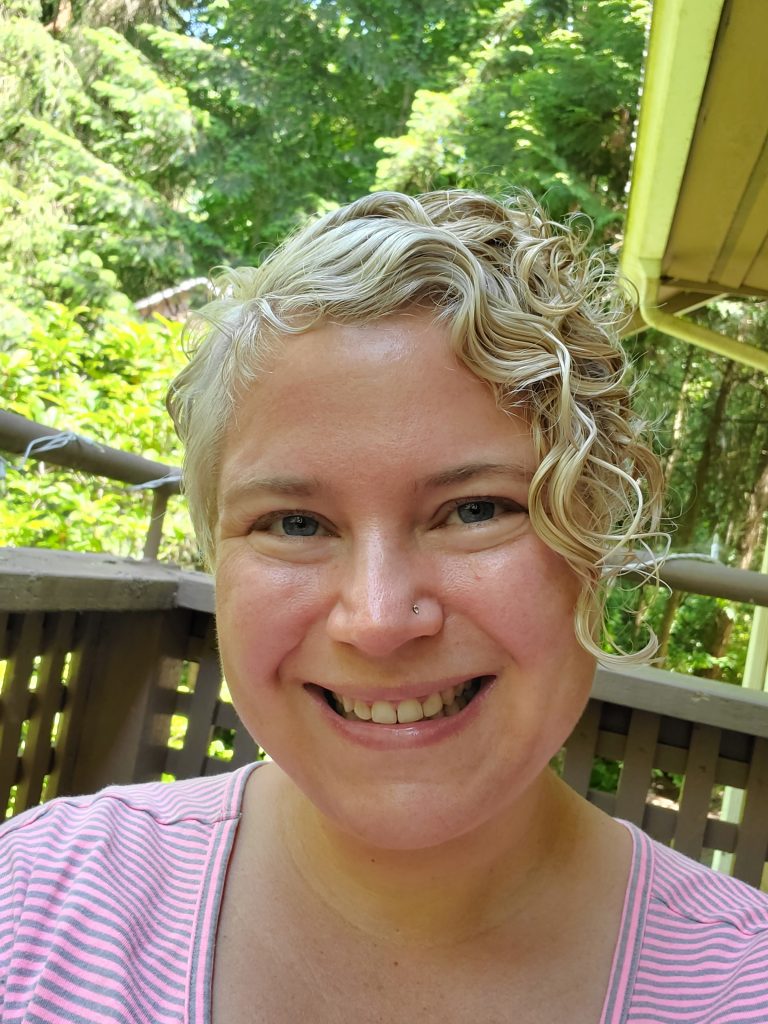 Name: Caitlin Bigsby
Title: Director, Product Marketing
Residence: Burnaby, BC
Hometown: Vancouver, BC
As the Director of Product Marketing, Caitlin helps HR buyers understand and realize their potential with people analytics. She also tells compelling stories about how Visier improves the way organizations do business and HR.
"I believe people analytics has the ability to help us understand the elements that we can and can't control when it comes to people because there are many factors that can affect how people perform at work," says Caitlin. "For example, HR can better compensate people once they have the right data to identify something meaningful for the employee."
Let's dive deeper into Caitlin's work and her life:
Work Questions:
What's your motivation for doing what you do?
I believe product marketing is all about storytelling and I love how Visier touches all aspects of HR so there is no shortage of stories to tell, which motivates me to do what I love! As well, the people I work with everyday are so smart, supportive, and fun to be around.
Do you have any career goals you're working toward?
I would like to move into more of a strategic role since I have worked alongside software development teams prior joining Visier and I feel that I have a holistic view of the software world. I would love to have the chance to implement initiatives program-wide rather than siloed to marketing.
What has been a big learning moment in your career?
After spending 25 years in the tech space, and having worked as a consultant, it never ceases to amaze me how organizations are alike in many ways, but also uniquely different.
How does your team influence the product?
My team brings back the perspective of our market and what our competitors are doing and we work with the product team to 'shake up' our product so we have better stories to tell and respond to potential customers' desires.
What Visier feature do you think is super cool?
I love our In-app Help and Explanation feature! This is super helpful when you don't know which function to use so you can explore inside the app to see which function is best fitted for each scenario. It ensures that the organization is using the same function across the board. I also think our Cohort Analysis is a neat feature!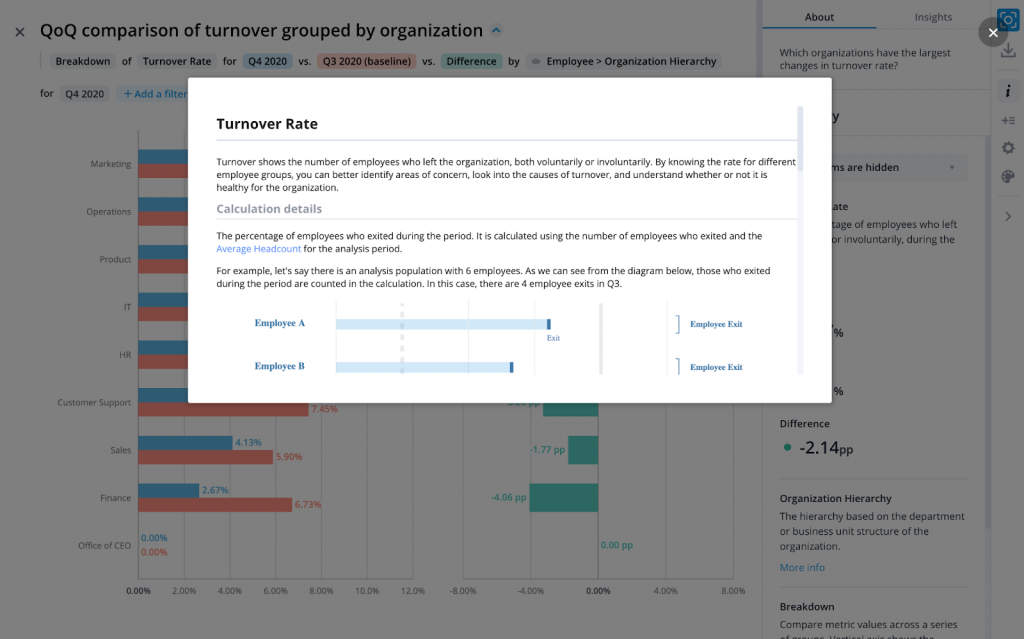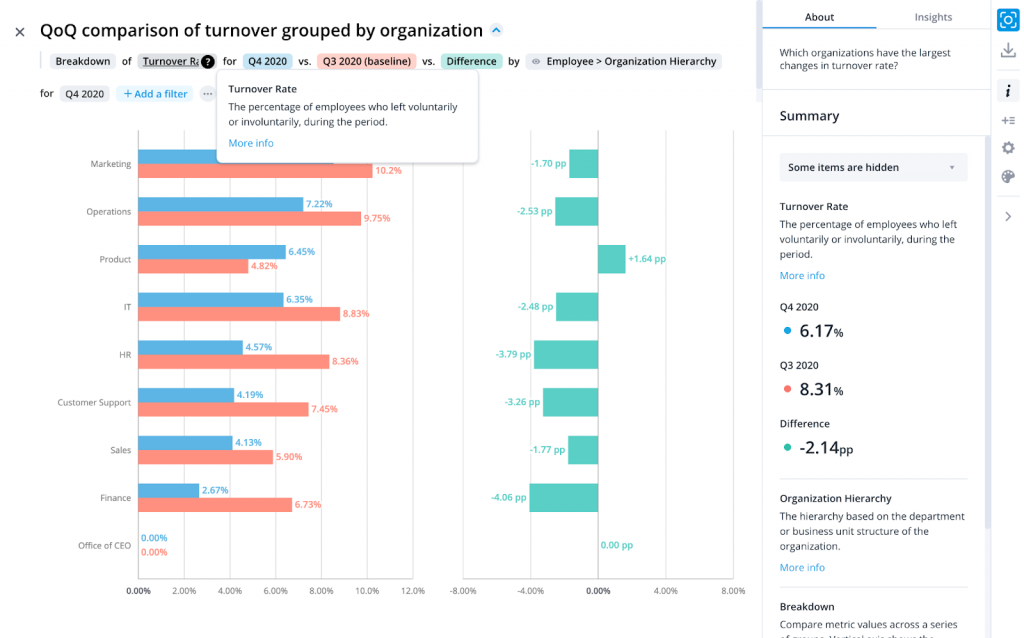 What is something professionally you are proud of?
Lately, I have been working on a way for business professionals to better understand and solve their problems, so I have developed a problem solving framework that they can use! The Ask, Align, Act framework allows business professionals to understand the problems that they are facing and help them come up with a solution. It can also show the user when to use analytics and past experiences to solve their problems.
Life Questions:
What's the best advice you were ever given? Who was it from?
The best advice that I was ever given was when I first started my career in consulting and my consulting mentor told me:
"You know more than they do." – Caitlin's Consulting Mentor, Lisa
This gave me the confidence in my own abilities to help customers. She also told me that if I didn't know, not to try and make up an answer, but rather say you will get back to them about it. It will be better for your credibility to get it right than to make it up on the spot. In fact, I think this piece of advice is so versatile that it can be applied anywhere!
What was the first concert you ever went to?
Peter Gabriel's. My friend was a big fan and I went along to be supportive.
What's one hobby you'd love to get into?
I would love to try ghost hunting one day! I think Ghost Adventures is hilarious!
What book are you reading now?
I am currently reading the novel, The Silent Patient, by Alex Michalides. It's a mystery-thriller!
What is your dream travel destination and why?
My dream vacation is glamping in the African Safari! The landscape and the animals look so beautiful there and I would love to be up close one day.
Do you have a fun fact about yourself that you would like to share?
In the 25 years of my career, I have only worked at three companies!
About the author: Visier Team
People-centered ideas and insights by the editorial team at Visier.
Be the first to know!
Never miss a story! Get the Outsmart newsletter.
Related Articles
ASK VISIER
Succession planning means having candidates ready to be promoted into crucial roles. Find out how Visier can provide valuable insights.
ASK VISIER
You're not a compensation expert but you need to advise your managers on compensation? Visier can tell you how well your organization pays people relative to their peers and the market and why this matters.
EMBEDDED ANALYTICS
To discuss how HR tech providers can build products that truly respond to their customers' needs, we brought together three experts.