On June 3-4 2020, you can join HR practitioners all over the world for Visier's global digital summit, Outsmart. You'll experience iconic keynotes, thought-provoking breakouts, energizing panel discussions, and inspiring conversations–all without leaving your desk! Register for the free event here.
This year, Outsmart, the definitive people analytics and planning conference, is going digital. While virtual events have been on the rise, the move to an online conference experience may still be an adjustment for many. But we're here to help prepare you for the best virtual experience on June 3-4!
Here are five tips you can use to maximize your time and the value you get out of Outsmart:
1. Block out the time on your calendar
To get the most out of the summit, block out time for the event on the calendar. Don't try to multitask as you listen to the sessions. During the summit, focus on each session and minimize potential distractions. Treat this online conference the same way you would treat an event that you would attend in person.
2. Review the agenda
Before the event begins, set aside time to learn what it will offer. Look over the agenda and see what sessions will be available to you. This will help you begin to prioritize certain offerings and determine what topics are most important for your organization. You can go here to view the full Outsmart 2020 agenda.
3. Set goals
Going into the conference, think about what questions you want to get answers to and the skills that you want to grow right now.
For example, do you want to know how your organization can be successful with people analytics or how you can make the most of your data coming out of the global pandemic? If answering those questions is important to you, Making People Data Meaningful in a Crisis and Change Management: Laying the Foundation for a Successful Analytics Journey sessions should be at the top of your list.
Review all of our inspiration-packed sessions and see which ones align with what you want to know. If you have other questions, you can also visit the #AskVisier booth in the virtual Expo Hall to talk to our people analytics and workforce planning experts!
4. Remember to network
Outsmart may be happening digitally this year, but we are still providing plenty of opportunities to connect with other attendees. In the Networking Lounge, you can share ideas and expand on what you're learning at the digital summit. We'll also have live chats and Q&A available during every session. These channels will allow you to connect with speakers and get answers to your questions.
5. Engage during the event
Attendees that engage during the event will get the most value out of it. Take notes, ask questions, and participate inside the channels that are available to you throughout this summit. Share your experiences and "aha" moments as you learn from each session. If you're sharing insights on social media, remember to use #VisierOutsmart in your posts!
This is an opportunity to connect with industry experts and your peers in a way that is likely to be the new standard for conferences for the foreseeable future.
Register for Outsmart 2020 now
Ready to learn from our iconic keynotes, thought-provoking breakouts, energizing panel discussions, and inspiring conversations? Learn more about Visier Outsmart 2020 and register for this free event today.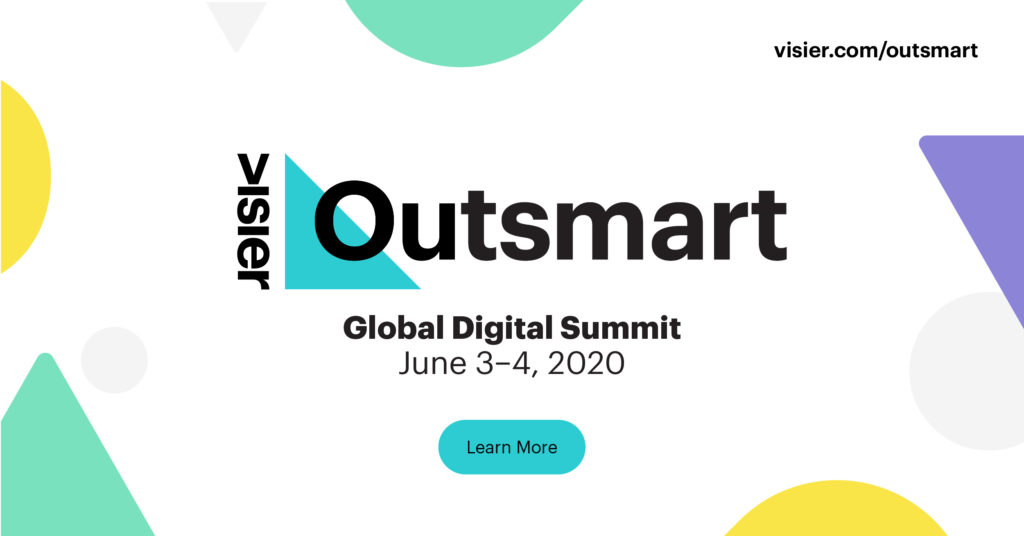 About the author: Visier Team
People-centered ideas and insights by the editorial team at Visier.
Be the first to know!
Never miss a story! Get the Outsmart newsletter.
Related Articles
ASK VISIER
Succession planning means having candidates ready to be promoted into crucial roles. Find out how Visier can provide valuable insights.
ASK VISIER
You're not a compensation expert but you need to advise your managers on compensation? Visier can tell you how well your organization pays people relative to their peers and the market and why this matters.
EMBEDDED ANALYTICS
To discuss how HR tech providers can build products that truly respond to their customers' needs, we brought together three experts.