Leadership
4 Min Read
Can People Analytics Improve Female Leadership Representation?
The value of gender leadership parity has been well known for years. In fact, companies with a higher percentage of women in executive positions have a 34% higher total return to shareholders compared to those that don't, according to Catalyst. However, IBM found that women will not achieve leadership equity with men until 2073.
Still, moving towards parity in representation of women at all levels is critical to both business outcomes. This contributes to paving the way for organizations to achieve equity in hiring, promotions, and pay, as well as to move towards higher levels of inclusion.
The question is: can people analytics actually help organizations better retain and promote female leaders?
People Analytics and the Female Leadership Ratio
To answer this question, we compiled a report aggregating anonymized Visier customer data. These fifteen organizations, with over 100,000 employees between them, had Visier People® in place for at least two years and three years of data from which to do analysis.
We analyzed the female leadership data from Visier People customers and found two main insights:
Key Finding 1: Improved their female leadership ratio to males by 11.5%
Key Finding 2: Improved their retention of female leaders by over 70%.
Our key findings show that analytics and dedication to proactive diversity and inclusion programs are what is helping to increase female leadership retention, improve diversity, and address inclusion inequity in all phases of business operations, processes, and activities. These findings also show the far-reaching impact of improvement in female representation.
One reputable source of data on corporate leadership pipeline is published by McKinsey, who report female leadership is between 30% and 34%, taking into account both white women and women of color.
In comparison, our first key finding shows that Visier customers started their use of Visier at a higher level (34.8%) and in the two years since, have improved this number beyond McKinsey's range to 38.8%.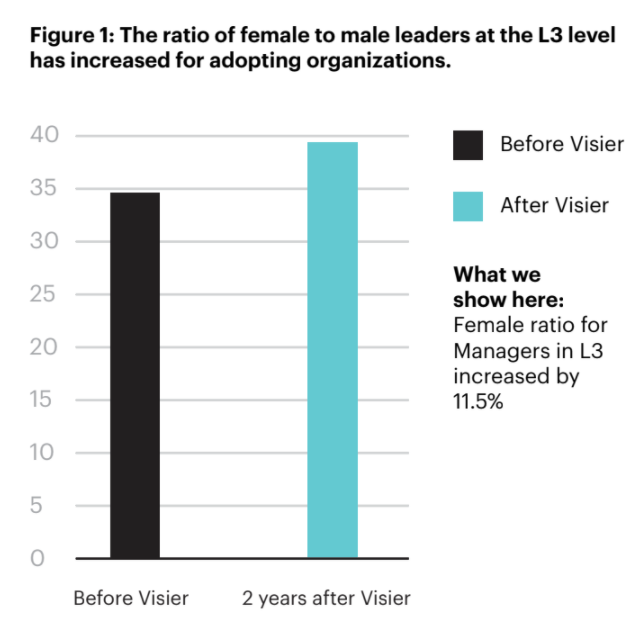 For a deeper dive into these key findings and what it takes to improve female leadership representation, download the FULL REPORT HERE.
Using People Analytics to Improve Female Leadership Representation
In this report, we highlight how some of these organizations, including Anglo American and Merck KGaA, use data and analytics to shine a light on female leadership representation and the incremental steps they've taken to improve this.
Without people analytics, many organizations have to guess what contributes to increasing diversity or the lack of it. People analytics helps HR organizations prioritize the activities that have the most impact. With the right people analytics platform, some things an organization can do include:
Looking at the gender balance in the organization and how it's changed over time.
Reviewing benchmarks, such as the Equal Employment Opportunity Commission (EEOC) employee minority ratio, for a frame of reference to determine how the minority ratio results compare to others.
Gaining a full understanding of the organization's diversity. Employee diversity may appear to be spread throughout the organization overall, but taking a closer look at the different functional levels could show pockets where diversity may be concentrated or lacking.
Data and analytics is critical to the journey to a more diverse and inclusive environment, but a culture shift is needed to fully accomplish this. We must not only look at the data, but encourage leaders to speak on the numbers truthfully, so we can see the behavior, speak up courageously, and take responsibility for change. Diversity and inclusion results in value to the organization and ultimately, to each of us.
Learn more about these key findings and what it takes to improve female leadership representation, download the FULL REPORT HERE.
Be the first to know!
Never miss a story! Get the Outsmart newsletter.