If I had to use one word to describe the energy on the show floor at this year's HR Tech, it would be this: dynamic.

Remembering our first HR Tech back in 2011, and reflecting on the show this year, the first thing that strikes you is how much the Expo floor has changed because of mergers and acquisitions. Of course, this M&A is driven by vendors realizing the complex needs of the HR industry and their desire to meet as many of those challenges as possible with as many modules as possible. It appears as though there is a race to be all things to everyone. Meanwhile, those who specialize continue to grow and occupy larger booth spaces each year.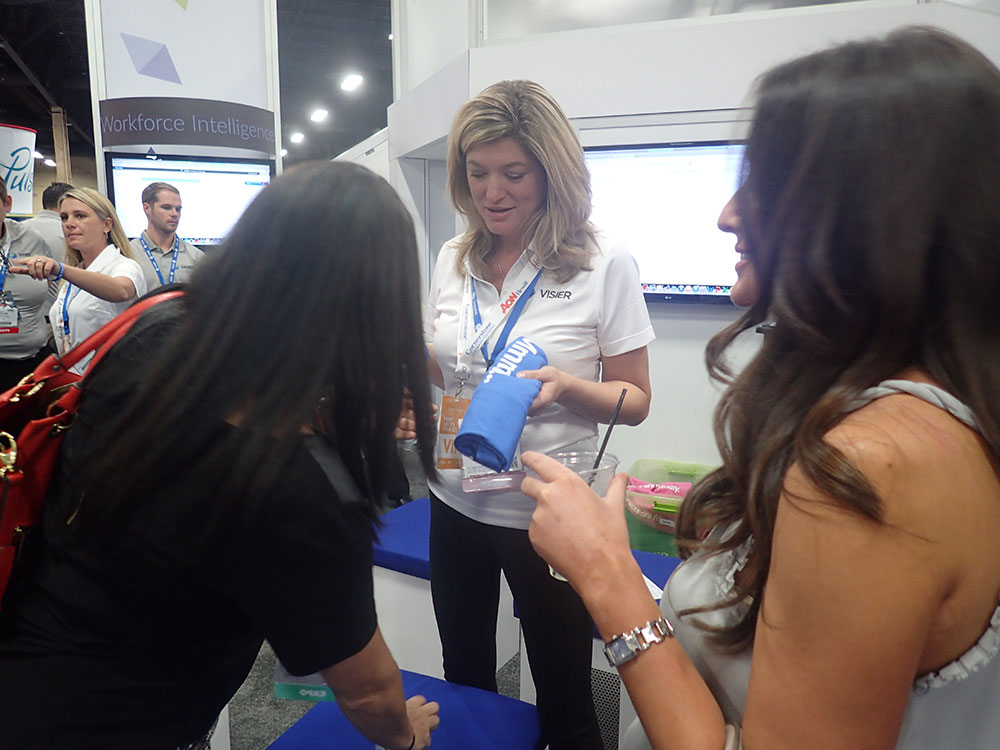 What are these complex needs that vendors are discovering? They are varied, but we are seeing HR focus on critical areas such as retention, recruiting, diversity requirements, and generational divides. At HR Tech 2015, we announced our take on what will be top of mind for HR leaders in 2015. Here are our top 5 trends for the not-so-distant future:
Trend #1: Companies will double-down on retention and recruiting
In the improving economy, retention challenges will arise as workers become more confident in exploring new jobs. At the same time — as unemployment drops — there will be increased competition for recruiting talent and vacancy rates will increase.
This means more organizations will take a more proactive approach to planning.  To achieve this, it will be crucial to identify critical resources, forecast turnover, and develop more accurate hiring plans based on delivering talent for critical business strategies.
Trend #2: Organizations will move their focus from headcount to total workforce costs
Whether it is new workforce strategies that rely more on contingent workers, or legislation such as the Affordable Care Act that impacts spend on benefits, organizations will increasingly seek to understand the complete picture of workforce costs.
Insights into salary or direct compensation only tell part of the workforce cost story, and to understand the real impact to the business organizations will expand their analysis to the total cost of the workforce. What does this mean for HR? That it will become increasingly important to make decisions based on actual total costs rather than simply looking at headcount.
Trend #3: Generational shifts will be an increasingly hot topic
The U.S Bureau of Labor Statistics predicts that by 2015 millennials will overtake the majority representation of the workforce, as baby boomers retire in greater and greater numbers. Millennials are known to have significantly different expectations for their employment experience.
HR will face challenges of engaging and retaining newly hired millennials, while also ensuring the knowledge and skills of retiring baby boomers are maintained. To address this, HR will need to predict and better time retirements, and identify critical skills being lost, while also enabling them to understand how to best motivate, train, and retain millennial workers.
Trend #4: Depth of insight into diversity will become more valued
With major companies publicly sharing their workforce diversity shortfalls in 2014, more organizations will feel the pressure to reveal workforce diversity figures in 2015, and ensure their organization looks like their customers.
Empirical studies have shown that diverse organizations perform better than organizations that are largely homogeneous.  Organizations to analyze diversity across topic areas such as recruitment, succession, promotions, and turnover, and understand how they compare against industry benchmarks.
Trend #5: From analyzing the past, to planning and predicting the future
With a growing economy comes heightened competition which drives the need for more agile business strategies to take advantage of newfound opportunity – before the competition catches up. Reacting to past trends will not give the business the insight necessary to align and act. HR will look to more sophisticated workforce plans that incorporate data projections and increase workforce decision agility.
At the end of the day, business leaders increasingly recognize that recruiting, retaining, and motivating the right talent is critical to business growth and prosperity – and this is a significant opportunity for HR. With all of the above trends in play, HR will certainly be faced with many challenges, but will also be presented with an opportunity: to adopt a more business-linked approach and make a real difference.
About the author: Dave Weisbeck
Dave enjoys problems that require both logical and creative solutions, and thus exercise both his left- and right-brain. He started out his career in the 90s writing code as a computer programmer, and then moved on to product management, marketing and general management roles. Dave has a strong background in analytics, having played a key role in the analytics businesses at SAP, Business Objects, and Crystal Decisions. At Visier, he looks after product and market strategy. A proficient do-it-yourselfer (he made his own PVR for fun), Dave's hobbies include the logical and creative challenges of cooking, home brewing, and photography.
Be the first to know!
Never miss a story! Get the Outsmart newsletter.
Related Articles
CULTURE
Establishing credibility on any given talent issue (retention, recruitment, or succession planning...) is a two-phased process. Let's go through both.
TRENDS
HR Transformation is no small feat. These 3 signs will help you realize your HR transformation potential and become a strategic business partner.
CULTURE
Businesses find themselves with more employees than they can afford, and a reduction in force is necessary. Minimize the pain of the budget squeeze.