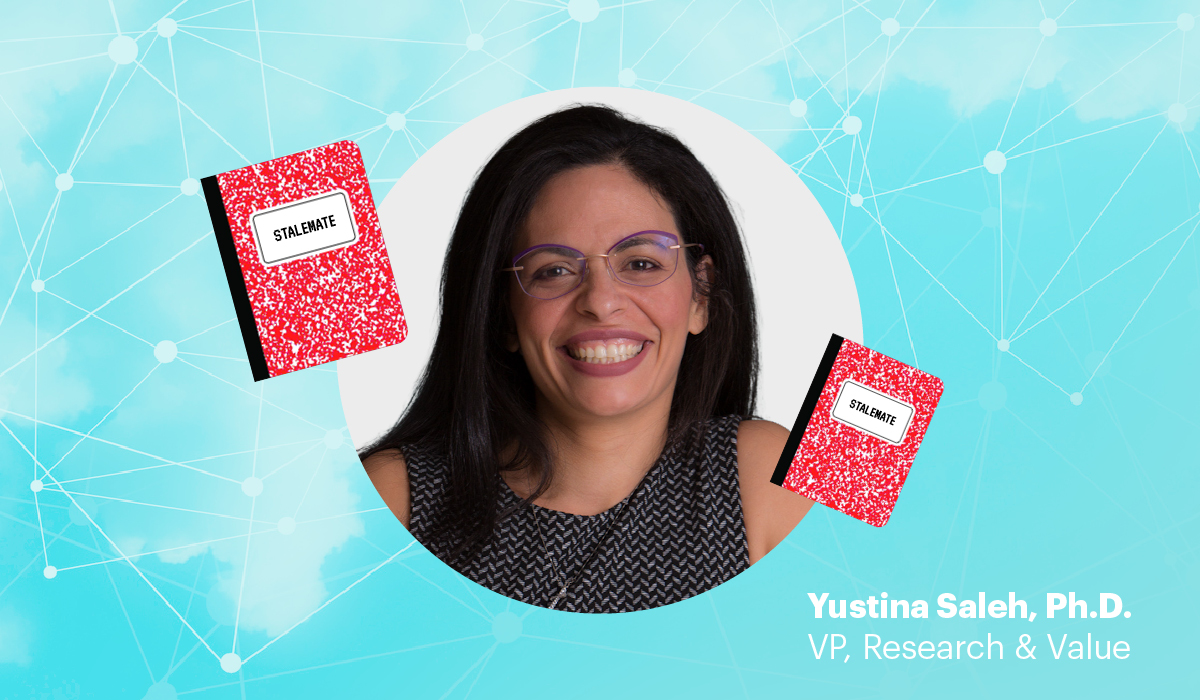 Picture this: The C-Suite and the board meet to forecast revenue, cost, profit, and headcount. As per usual, the CFO takes the revenue and profit goals, translating those into headcounts by department. A rather static headcount per unit of revenue is established, accompanied by a staffing pattern to allocate headcount for each department. 
Managers are allocated headcount based on a formula, already grumbling that the raises they requested for team members weren't approved. The business unit leaders don't feel they have the resources to meet deliverables, while the CFO and the COO think the cost side of the business is too high. A stalemate ensues…
From the CFO and COO point of view, cost-to-revenue and salaries-to-total-cost ratios must be adhered to for the company to stay above water. But this doesn't always take into account what was promised in terms of deliverables and what opportunities are created through more efficient processes. They trust the formula, and the rigidness cascades down to all levels of the business. 
---
The separation of work and people
But who is auditing those tasks and deliverables that are all connected to business outcomes? Are all those features currently in the pipeline linked directly to clear business objectives? Are FTEs the most optimal people to execute the work? Are there underutilized people on the team who could be upskilled into new opportunities? Do managers know the potential capabilities of their team members, and how their capabilities align with the evolving needs of the enterprise?
Today, we have more data on people than ever before. Billions of transactions are recorded in myriads of systems, including HRIS, internal talent, ATS, learning management systems, employee experience, messaging, organizational network analysis, and more. But there seems to be an inverse correlation between the amount of data organizations have on people and the insights they have on the links between the people and work. This gap is what the People Intelligence Alliance refers to as the People Impact Gap.
---
There is a perception among managers that HR is creating additional work, rather than helping managers achieve business outcomes with things like higher productivity, lower cost, lower risk, higher capacity and proficiency, and greater agility. So what does it take to turn these transactions into business outcomes? Here are two scenarios between HR and people leaders that can and should be turned around:
---
A manager lost several people on the team while the duties of the team expanded. They can't back fill all the positions,  so they write a job description that combines several roles. They also do some research using some open skills taxonomies and add a bunch of other skills requirements, because that sounds cool.
This people manager then goes to the talent acquisition (TA) manager with the new job description. The TA manager posts the job everywhere, conducts extensive research, brings dozens of resumes, and schedules many interviews. The position goes on for months unfilled. The TA manager blames the hiring manager for unreasonably rejecting all candidates. The hiring manager blames TA for not being able to source the right talent. Business is losing money every minute that job is not filled, internal teams are feeling more and more burnt out as they keep pitching in to make up for the gaps, and now one more person is resigning.
Another stalemate. 
---
2. Performance reviews = more work  
A finance products development team has been totally overwhelmed. New feature requests pile up every day, the project management system is exploding with new epics, tasks, and issues. 
Everyone is stressing about the looming deadline for cycle release. How does HR react? By giving the development team managers a friendly reminder to fill out their performance review forms and submit engagement surveys. Also, by the way, these five employees are overdue in submitting their time sheets.

Seriously?
---
Craving for insights
It is absolutely remarkable that with all the data we have available on people, the above scenarios are the norm rather than exceptions. A talent shortage, the pandemic, and rapidly shifting market needs have only made those problems more acute. It is becoming quite clear that the problem is not lack of data, but rather the loss of meaning from disharmonized and siloed data.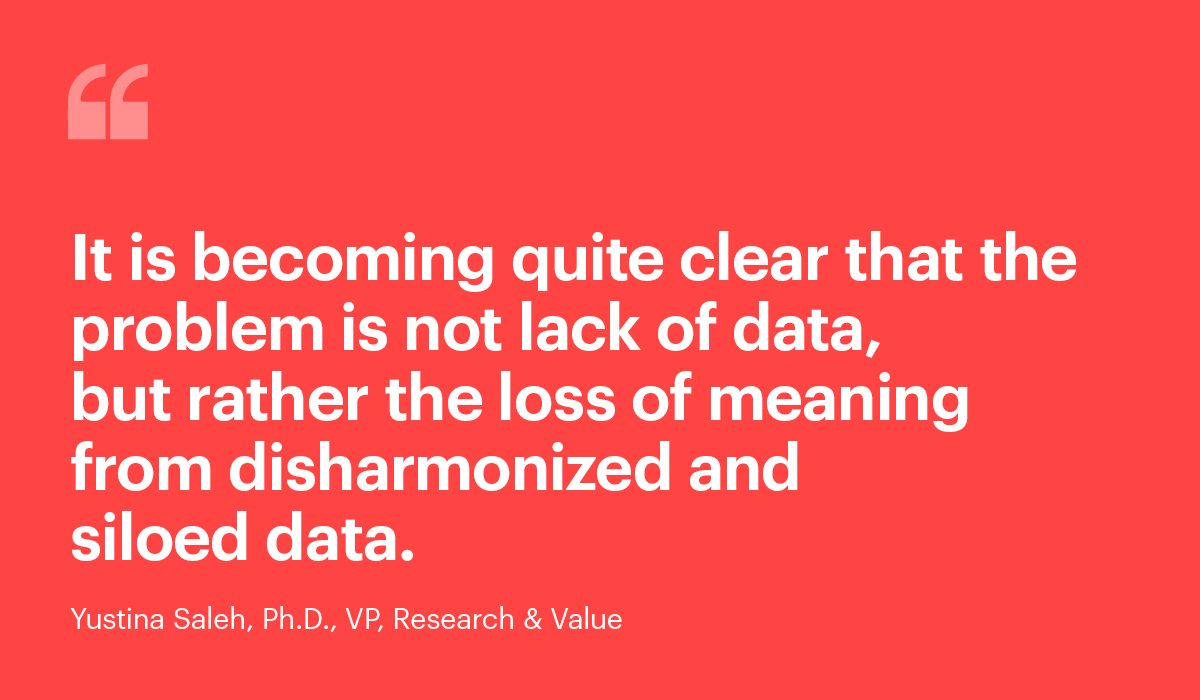 Let's take a look at each of these scenarios:
---
Unleashing talent capabilities
The hiring manager or people leader in the first scenario just assumed that they needed to fill the gap with a new position and started looking for a combination of skills which–if it exists at all–has a salary expectation completely out of range for the position. Let's say the people leader is looking for a SCRUM master with extensive marketing experience, data analytics, strong business acumen, and, because the team works closely with clients, the people leader decided to add things like change management and continuous improvement. The person also is required to work from the office as the manager wants to be more hands on.
But imagine if the needs of the enterprise and the team are analyzed holistically and in view of all talent capabilities within the organization as well as outside. The manager is able to understand the potential of their immediate team, and sees that there are people on the team already with strong data analytics skills (one person took several python courses and has been part of data science lunch and learns in the organization). 
But the manager had no idea that their team member has that interest or worked so hard on adding that skill. The department has been filling change management and continuous improvement skill gaps through contract work as these needs are sporadic, and it has been working quite well. There are also several individuals in neighboring teams that expressed interest in marketing projects, and they expressed interest in taking marketing tasks on project basis. 
It turns out this is a typical SCRUM master position and in the past, hybrid and remote models of work were quite successful for this position. Relaxing requirements like this will take the position less than six weeks to fill. But the billions of transactions and work data that we failed to provide prevent such simple insight.
---
We don't need a survey to tell us what we already know
In the second scenario, people managers are drowning in work. In fact, their very project management tools are sending loud and clear messages about performance and real engagement, or lack of, of team members. 
Half of the team have been spending way more hours on tasks than was originally estimated, and hours worked are already showing clear trends of burnout. We already know who has been on the system working, for how long, and on which projects, so do we really need to fill those time sheets? And the team interactions captured in the comments section provide a lot more insights on engagement and collaboration than any employee experience survey.
With the right level of synthesis between people data, work data, and deliverables, we should be able to see when discrepancies between work completed versus budgeted for completion are out of typical ranges for the team. This manager should have gotten alerts of this risk, with specific insights on where this risk is coming from. 
Could it be the team composition has changed in a way where work is done less efficiently due to absence of certain capabilities? The team headcount could be exactly like it has always been, but the mix of seniority and capability could have changed in a way that resulted in less efficient workflows. In fact, we already have the data that should tell us who is at risk of exit in the team, whose performance has been declining, and who has been feeling less engaged. 
Taking it a step even further, we have the data to tell us which clients these risks impact, how these impact business outcomes (in terms of customer attrition, revenue, cost, etc.), and we even have data to tell us what parts of work teams are carrying that do not contribute to meeting objectives. All this is buried in mountains of fragmented data.
---
There is a better way
One of the most urgent tasks today is to close the gap between all of the transactional data on people, their work, and business outcomes. With connected data across all channels, each and every individual transaction from picking up a task on the work management system to filling a requisition becomes ultimately guided by an "invisible hand" optimizing business outcomes.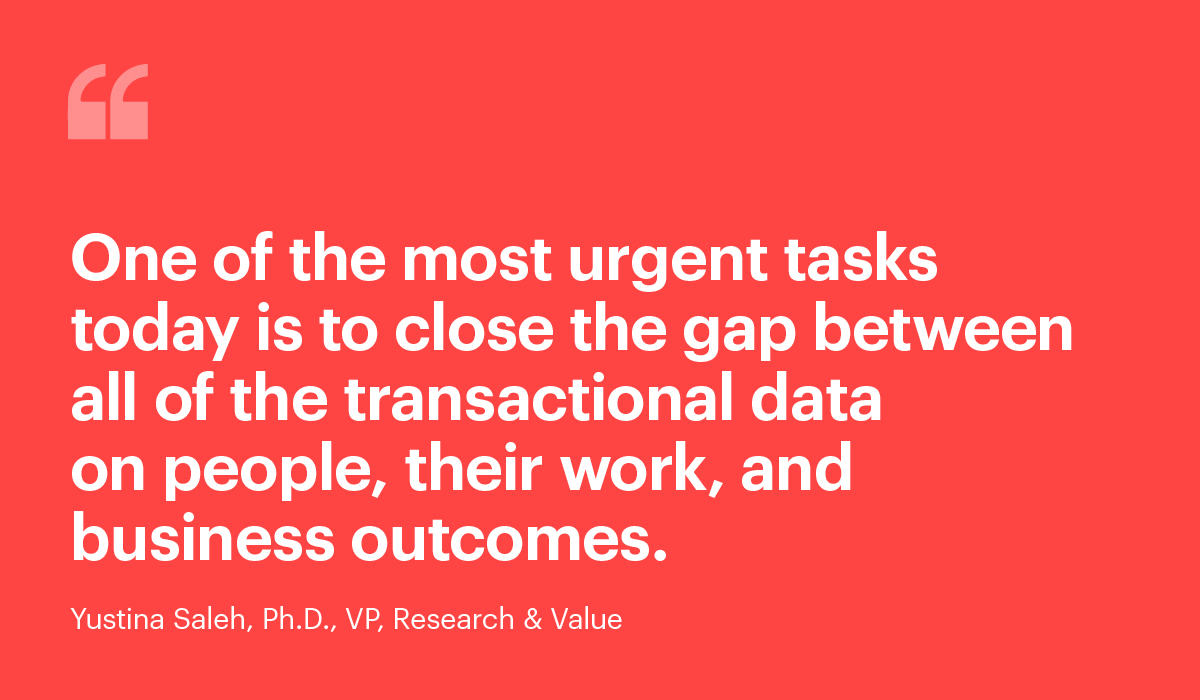 Analytics insights flag work that doesn't improve business performance. The right data insights detect sub-optimal processes, which deliverables are at risk, and above all, show people how their work makes the organization better and stronger. With a solution like Visier to turn people data into business insights, people stay longer in organizations, they are more productive, and companies thrive. 
---

About the author: Yustina Saleh Ph.D.
Yustina has been on a quest for connecting people and value for over 20 years. Her life goal is to help people and organizations unlock their unique niches and then find and be found by their perfect matches. Yustina formerly led skill-based analytics at Emsi, The Analytics Center of Excellence at Rutgers, real-time labor analytics at Burning Glass, and labor market and demographic research for the State of New Jersey. As Visier's VP, Research and Value, she's building a platform that connects people and work data with business outcomes to maximize people impact. When she is not optimizing talent capabilities, she enjoys spinning, running, and ballroom dancing.
Be the first to know!
Never miss a story! Get the Outsmart newsletter.
Related Articles
TRENDS
Outsmart 2022 brought together experts to discuss trends and innovations in people analytics. Read the top takeaways from the two-day event.
LEADERSHIP
Visier and Deloitte on the future of management, and why access to people data is crucial to business decision making.
LEADERSHIP
Visier is proud to celebrate five standout people-powered organizations for their people analytics strategies. Meet the 2022 Vizzie Award winners.