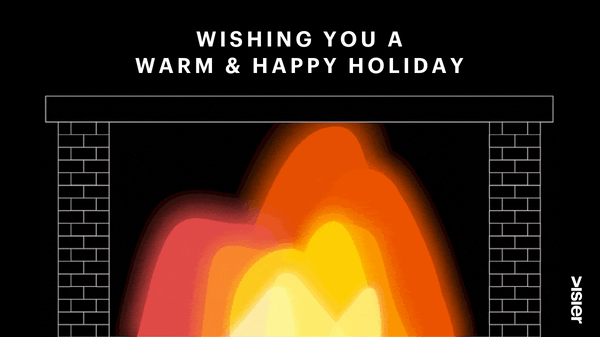 Have yourself a merry little holiday
May your business outcomes be bright
From now on your data will reveal insights
Have yourself a merry little holiday 
May your employees be fine 
From now on your C-Suite goals will all align
Here we are like pre-COVID days
Happy golden days before
Okay, maybe not normal yet
But we'll get through this, we're sure
Through the years
We'll always be your partner
If the Fates allow
We'll do what we can to help you out somehow
So have yourself a merry little holiday
Have yourself a merry little holiday
So have yourself a merry little holiday now
---
Season's greetings from the team at Visier! While the world can be a confusing and turbulent place, charts and data always make us feel warm and cozy inside, so we made you this yule log video. While you can't roast chestnuts over this data visualization, we hope this virtual fire helps make the end of 2021 feel a little more snug. Wishing you all the joys of the holidays and a happy and prosperous 2022.

To use: Get your hot chocolate and cozy socks, gather your loved ones around the yuletide data visualization, and press play to enjoy.
About the author: Visier Team
People-centered ideas and insights by the editorial team at Visier.
Be the first to know!
Never miss a story! Get the Outsmart newsletter.
Related Articles
TRENDS
This week in The C Sheet—when massive layoffs go awry, good news for the curious, and Omicron's effects on the return to work.
HR GLOSSARY
HCAHPS, or the Hospital Consumer Assessment of Healthcare Providers and Systems, is a "national, standardized, publicly reported survey of patients' perspectives of hospital care."
PRODUCT INSIGHTS
AI is helping companies retain and manage talent, but the disruption of the pandemic can throw machine learning models for a loop. Here's how experts keep the tech on track.