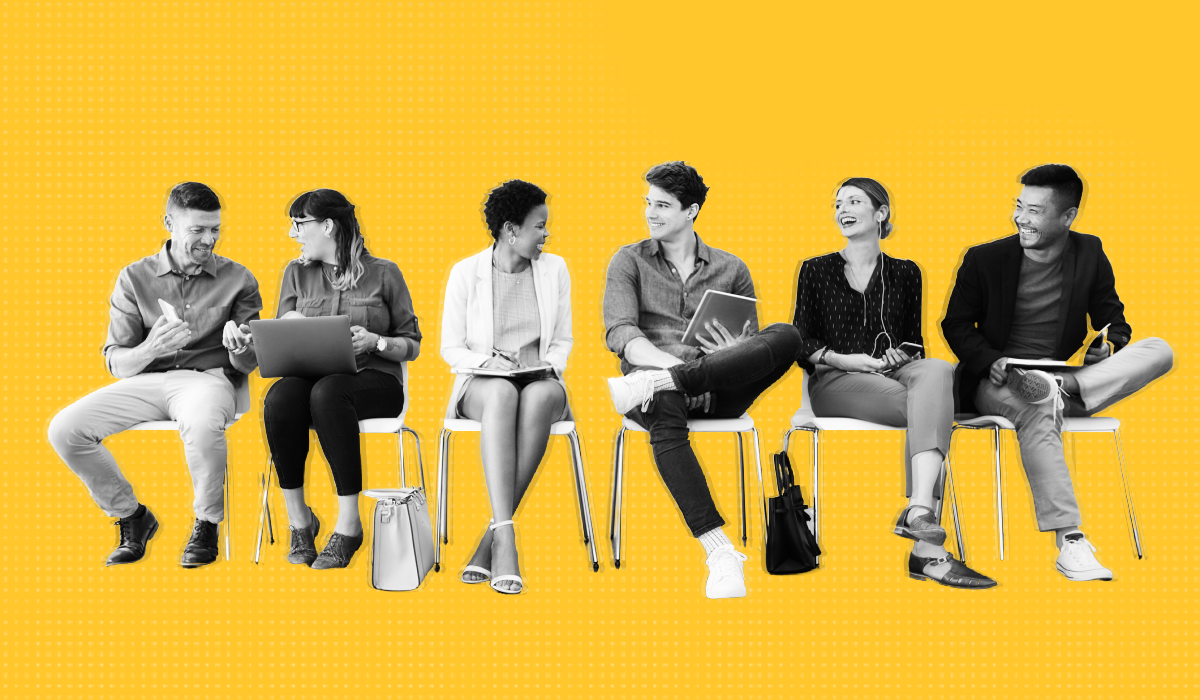 Visier's Ian Cook and Caitlin Bigsby were recently joined by people analytics experts who are passionate about driving diversity and inclusion change in their organisations. From strategic planning to discussing the link between diversity and The Great Resignation, how does data help a desire to 'do the right thing' manifest as systemic change?
How can companies accelerate their progress on the gender pay gap and other diversity issues, where progress can sometimes be painfully slow?
For global organisations, finding a clear pathway to tangible improvement is even more difficult when what might work in one region may not be the right fit in another. "It goes beyond looking at the global spread of our employee base; it's about making sure employees from all backgrounds are represented at all levels of the business," says Ian Grant, Director, Head of People Analytics & Insights at Standard Chartered.
One essential ingredient in these knotty problems is harnessing data. In fact, the failure to meaningfully harness data around diversity in the past is one of the prime factors holding companies back in this area.
Understanding how diversity is flowing through a people pipeline, and where the blockages are, is a prerequisite for effective diversity actions and initiatives, because good people analytics delivers a data-led view of what's going on within an organisation. The alternative is assumptions and generalisations. Diversity, along with areas such as retention, is a topic that can be rife with assumptions and homespun corporate wisdom, especially in the absence of any data.
Diversity problems hide in the aggregates of data, too. "Even if you're looking hot at 49% women in the workforce, if you were to break that down, it might not look so good. For example, the majority might be in HR, but not sales or development. You need to be able to pick it apart to find imbalance," says Caitlin Bigsby, Director, Product Marketing at Visier.
Executive level conversations
Part of the job is about getting the conversation happening within the executive team. When they see current and future data, and have an insight into how the journey is going, executive decision making is far more likely to happen. Regular reporting of metrics on progress or slippage makes the issue more compelling and urgent. It can even 'force' action to happen. Executives want to succeed, not fail. And a CEO, appalled every quarter by unequivocal but disappointing numbers, is going to take action and support a culture that encourages diversity and change.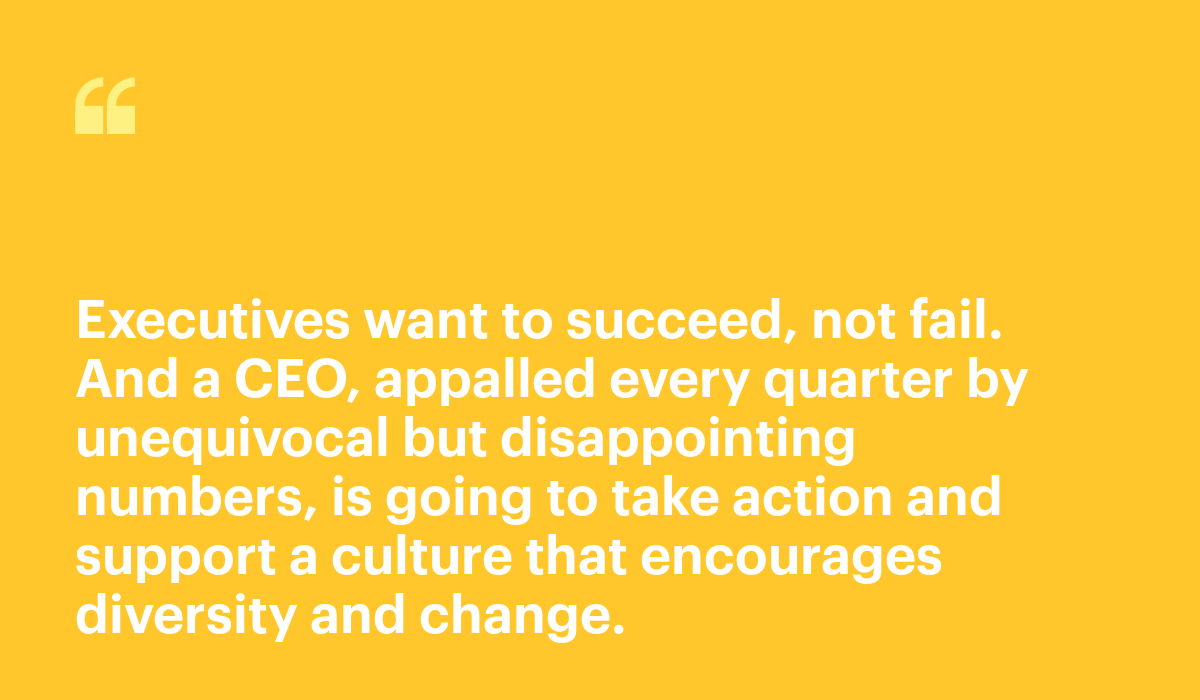 "The conversation has moved on from 'making the business case for diversity' to 'it's also the right thing to do,'" says Jacob Jeppesen, Senior Manager, Data & Analytics at Novo Nordisk. "What's helped us make the case for action is using data on our current performance to provide a simulation of how long it will take us to achieve our goals. So, if at the current rate of recruitment processes, it will take us 30 years to make a change, dependent on which diversity parameters we are measuring, it provokes a really useful conversation for what we need to change to get there sooner."
"We have a lot of good initiatives within Standard Chartered. The value is how we track the impact. Demonstrating that engagement has gone up, and attrition has gone down as a result of these efforts is key," adds Grant.
Companies have a particular way of operating at senior levels, where diversity as a topic is too different, or too difficult. Even if you bring in someone diverse, to shake things up, there's often a way of working that prevails and a limited appetite for change. Within a year or so, these new leaders say that they tried, but the rest of the team aren't ready for change.
"There has to be a culture that's created that allows for diversity and change. Creating that culture is a harder and bigger job than hiring someone," says Angela Ignam Mathon, Head of Global People Analytics & Insights at Aviva.
Moments that matter
Taking an employee lifecycle approach, and looking at moments that matter, is a good way to find out what is taking organisations away from meeting diversity targets. "For example, if we look at the recruitment experience, finding out the metrics on who has not had a good experience, as well as those who did, will help us make change at those key stages," says Jeppesen.
Data is the systemic fix. "When you're transparent with the data, you start to be given permission to use it. It's a cycle of improvement," adds Ian Cook, VP, People Analytics at Visier.
Defining inclusion
There has been a focus on gender, ethnic, and physical diversity in recent times, but what businesses also want and need out of such efforts and programmes is meaningful inclusion, which arrives from diversity of thought. "Companies want creativity, new thinking, and approaches that are going to enable them to build better products, design better customer journeys, and drive different corporate strategies," says Ignam Mathon.
With many differing ideas of what inclusion means, it's clear that inclusion happens when diverse thinkers make business decisions. "People want to be part of the conversations that make a difference to the company, not just to be there. Inclusion means listening to people, and not making them feel like a token," adds Bigsby.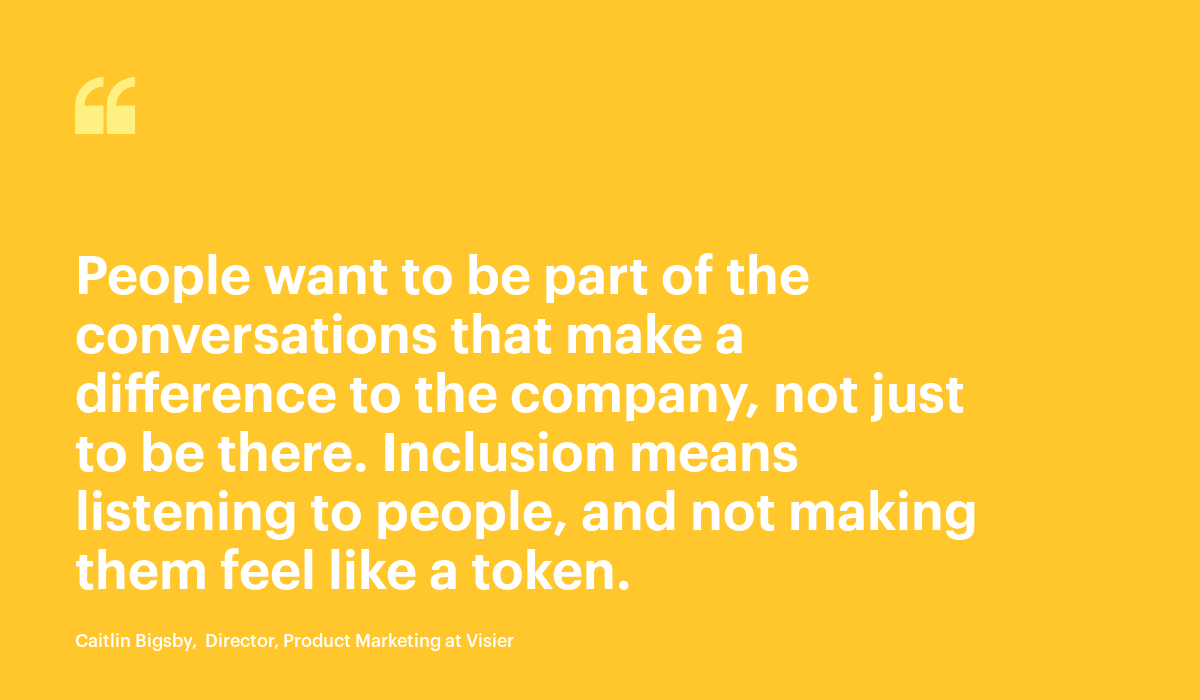 Organisational network analytics are very important in understanding people's feelings. And, it will be key to understanding new ways of working as hybrid working strategies continue to unfold.
"Measuring the positive impact of diversity of thought is also our responsibility," adds Jeppesen. It's our job to showcase this across the organisation so people can see the change."
To learn more about diversity planning and how to deliver on your pledge, download our guide.
Elliott King: As Senior Business Development Manager for Visier, Elliott's responsibilities include making sure best practice and thought leadership is shared with the EMEA market as well as helping customers get started on their People Analytics journey at Visier. As well as this, Elliott is a keen motorsport and performance car enthusiast and can often be found at the local race track.
Robert Sullivan: Robert is a B2B Sales Professional with 15 years experience of selling into the HR function.  Excited to be working in the people analytics space, as we are now seeing first hand, the importance that people data and insight can play in making the workplace a happier, healthier and more engaging environment for employees.  Born and bred in South East London, and still live there today.
Be the first to know!
Never miss a story! Get the Outsmart newsletter.
Related Articles
TRENDS
This week in workforce news: Target announces it won't open for Thanksgiving, airport surges, and new research on transgender employees' experiences.
CULTURE
Burnout was one of the main drivers of The Great Resignation. But just as the reasons for burnout are varied, so are the solutions for addressing it.
THE C SHEET
This week in workplace news: digital harassment, a rise in fake promotions, and why you shouldn't follow your passion when it comes to your career.