A 40-year HR veteran, Lexy Martin was Vice President, Research and Analytics at Sierra-Cedar and lead author of the Sierra-Cedar Human Resources Systems Survey, the longest running and most acclaimed Human Resources technology survey.
I thought about titling this piece "I Was Wrong" or perhaps "I Can See More Clearly Now." The truth is, I was wrong and I can see more clearly now.
What I'm talking about is the roadmap I suggested from the Human Capital Management (HCM) Blueprint that I laid out for the first time in 2005 while managing the Sierra-Cedar HR Systems Survey.
This blueprint continues today to serve as the roadmap of application adoption that organizations follow in creating their HCM application portfolio and achieving excellence along that road. Close to 1,500 survey respondent organizations today generally follow this roadmap to succeed in all things related to managing the workforce – administration, service delivery, workforce management, talent management and workforce optimization.
But I now think the sequence I suggested is not necessary to achieve insight-driven workforce optimization excellence.
You can, and should, go more directly to workforce optimization with people analytics solutions. In fact, waiting will decrease your competitive advantage.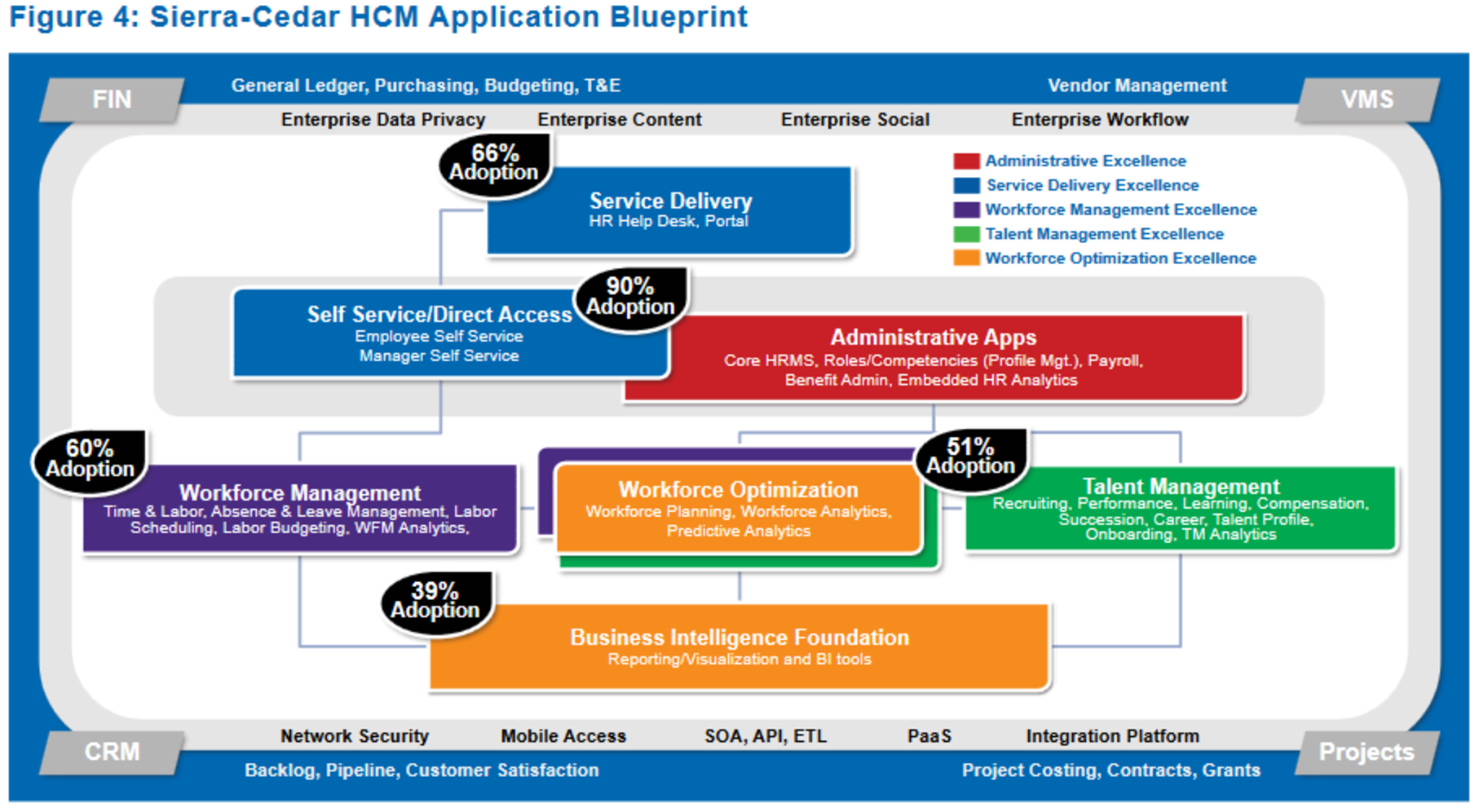 (Image source: Sierra-Cedar 2016-2017 HR Systems Survey 19th Annual Edition, page 8)
When we (the Sierra-Cedar survey authors) first put out the HCM application roadmap, we believed organizations — after achieving high levels of adoption in various HR management, talent management, and workforce management solutions — could then focus on bringing the resulting data from them into a single environment, such as a data warehouse, to conduct analytics and make key decisions about the workforce to achieve workforce optimization excellence.
However, time and current solutions have proven us wrong.
I've found that instead of focusing on the transactional, administrative HCM application first, organizations that are outperforming their competitors have made people analytics their first priority, sometimes even implementing it prior to a move to the cloud for their HRMS.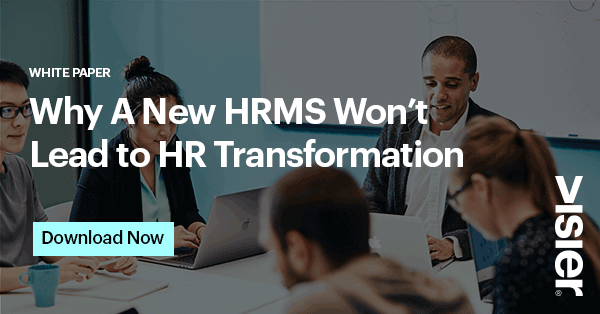 With as little as data from your legacy core HR management system to start, you can be on your way to optimize your workforce. Of course, having additional data sources means the breadth of your analytics can increase, but you don't need it all to achieve insight-driven workforce optimization excellence.
You can, and should, go more directly to workforce optimization with people analytics solutions. In fact, waiting will decrease your competitive advantage.
I think we need to change our thinking about where analytics fits.
It is not just an application, but rather a platform – a people strategy platform that provides workforce and business outcome insights. Unlike your HRMS, Talent Acquisition, Talent Management applications, and so on, which are transactional and process-oriented, analytics is a strategic decision-making platform. It provides a way to use data to make decisions to optimize the workforce and its contribution to the business. Analytics should not be one box on the blueprint. It should be half of the diagram, and is perhaps the most valuable half.
The short story: you should be enabling analytics with every HR system your organization adopts.
By this, I do not mean that you should implement HR systems that include "embedded analytics" (analytics that are part of the transactional system). This sort of analytic solution is too siloed to offer more than minor value. Instead, you should invest in a single people strategy platform that will bring together and connect data from all your sources, across all your systems — including data from outside your HR systems, such as financials, engagement data, and customer satisfaction data.
It is not necessary to wait to have all those solutions in place to glean insights from a people strategy platform. It is not necessary to wait until your organization migrates its HRMS from an on premise solution to a cloud solution. It is not necessary to wait until you have an integrated talent management solution.
(You also don't need to get trapped into the false security of doing a data warehouse project – they can cost your dearly and do not need to be the precursor to modern analytics.)
The short story: you should be enabling analytics with every HR system your organization adopts.
Imagine, instead of waiting to implement a myriad of systems and migrate to a new HRMS, you started with a people strategy platform and:
One of the key findings of the 19th Sierra-Cedar HR Systems Survey revolves around the key initiatives of organizations — where organizations spend at least 25% of their time.
Integration of HR applications is among the top initiatives of all organizations. As organizations build out their HCM blueprint, they understand their solutions, when integrated, provide for the best possible workforce analytics support. Ideally an Enterprise Integration Strategy (EIS) and platforms will handle ubiquitous data integration. But to provide seamless connections that handle network security with access to not only HCM but Finance and operational data systems, access from all devices, application program interfaces (APIs), and extract, transform and load (ETL) from all sources, is onerous. Waiting until all this is done means your organization is missing out on the competitive advantages and positive business outcomes of people analytics.
With solutions today, you can take a shortcut to workforce optimization and take advantage of people analytics as you build out your HCM application blueprint. Make analytics the foundation and people strategy platform of your HR technology roadmap!
About the author: Lexy Martin
Lexy Martin is a respected thought leader on HR technology adoption and value achieved. Known as the originator of the Sierra-Cedar HR Systems Survey, she now works at Visier with customers to support them in their HR transformation to become data-driven organizations. Lexy is Principal, Research and Customer Value at Visier.
Be the first to know!
Never miss a story! Get the Outsmart newsletter.
Related Articles
CULTURE
Agile HR teams need real-time feedback to get things done. We'll explore a few ways to can use Agile principles to take action on employee feedback.
LEADERSHIP
Alex White, head of Next Big Sound, is determined to deliver music analytics that also improve the experience of creating and distributing music.
TRENDS
Morten Kamp Andersen, a thought leader in the people analytics space, shares how HR data and People Analytics can support change management.