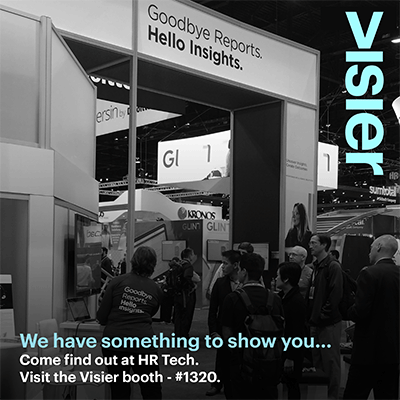 This year marks the twentieth anniversary of the HR Technology Conference. It's a big milestone for this amazing event and the community that it has built.
As I looked through this year's lineup of sessions and speakers, I couldn't help thinking about a series of articles from Workforce.com. In 1998, a panel of HR experts and futurists were asked to predict how HR would change in 2008, and in 2008, another panel was tasked with envisioning the HR of 2018. Here's a sampling from the 2018 cohort:
"The structure of work will become more adaptive, more informal and less focused on formal structure and static design solutions."

"Substantially less business travel and fewer expatriate assignments."

"The memory of today's financial crisis will leave a legacy of greater scrutiny and regulation of issues such as fairness, pay differentials and ethics, particularly in traditional Western economies."

"Decisions about hiring and training will be tied more carefully to the bottom line" (predicted by frequent Visier guest writer, John Boudreau)

"A decision science for talent markets will advance significantly by 2018."
In two decades the HR tech space has evolved immensely. It's interesting to look back at these predictions and see which ones have come true, and which haven't – at least, so far.
The reality is that doing business means dealing with a level of uncertainty. It was true in 1998 and 2008, and it is true today. Conferences like HR Tech facilitate the research, thinking, and meaningful conversations needed to better prepare for the future. Here are some HR Tech conference 2017 sessions we recommend to help with this:
Tuesday, October 10
2nd Annual Women in HR Technology Pre-Conference Event
@ 8:30am
In the last 20 years, despite considerable attention, the gender wage gap has only improved by 8% — a slow pace of improvement that indicates removing the gap entirely is more than a generation away. Expect to come away with fresh ideas for tackling this issue at this pre-conference event geared towards empowering women in HR and HR technology to grow personally and professionally.
Wednesday, October 11
From Moonshots to Roofshots: What Everyone Gets Wrong About Innovation and How to Get It Right @ 8:30am
Laszlo Bock, Google's former SVP of People Operations, will deliver an opening keynote on the different paths to innovation and creativity. Drawing heavily on Google's history of innovation, Bock will detail the specific skill sets and tools HR and HR IT leaders need to get themselves and their workers to embrace the new mindset for innovation.
HR Tech 20/20: The Talent Acquisition Journey Forward
@ 11:00am
Hiring the right talent is key to succeeding in business. Elaine Orler of Talent Function Group will share important talent acquisition trends, valuable solutions, and real-world examples of how inventive organizations are recruiting and hiring today – and will be in the future.
Connecting HR Technology, Analytics and Employee Experience Design
@ 1:15pm
As the nature of business adapts to the future, the employee experience must always be kept at the forefront. Technology expert Al Adamsen will be joined by analytics and talent managers from JP Morgan Chase, McKesson, and American Express in this discussion on how modern analytics technologies will enable you to improve individual employee experiences while executing on your HR and business strategies.
Research Report: Measuring the Economic Impact of People Analytics
@ 3:30pm
People analytics is a hot trend in HR, but what is its value? How can organizations measure that value? And how does that value change as an organization matures in its use of analytics? Lexy Martin, a 40-year HR veteran and former lead author of the Sierra-Cedar HR Systems Survey, spent the last year studying this topic and will present her findings along with expert guidance from a panel of people analytics leaders at BBVA Compass, Dignity Health, and TIAA.
Visier Visier at the Expo Pub Crawl Tour
@ 4:30pm
End Day 2 with a green tea vodka cocktail at our booth (#1320)! Our team is looking forward to meeting you and hearing about your strategies for the future!
Thursday, October 12
20 Years of HR Tech: A Look Back and a Look Forward at the Next 20 Years
@ 8:30am
Based on the title alone, this morning session featuring Bill Kutik, Steve Boese, Stacy Valy Panayiotou, Jason Averbook, Ray Wang, and Carlos Rodriguez will inspire you with many forward-thinking ideas to refresh your HR technology strategy with.
Looking Ahead: Where Artificial Intelligence and Machine Learning May Take the Next Generation of HR
@ 11:00am
Join Holger Mueller of Constellation Research in this session on how Artificial Intelligence, Machine Learning, and similar innovative technologies are disrupting best practices in both HR and the rest of the organization.
Mega Session: Digital Transformation in HR Is Today, Not Tomorrow! @1:45pm
If you're having trouble wrapping you head around the future of work, let global HR thought leader Jason Averbook separate the buzzwords from reality for you. He'll cover important digital topics on design thinking, data science, personalization, and new skills every HR leader needs today.
Transforming HR in a New World of Work: 2017 HR Transformation Survey Findings
@ 4:00pm
Mike DiClaudio from KPMG will share the latest findings from their annual HR Transformation Survey (which is also turns 20 years young this year). With insights and benchmarks from more than 900 participants across 50 countries, this session will cover the key HR Transformation priorities and emerging technology topics every future-thinking leader needs to know.
Friday, October 13
Digital HR: A New Architecture for Technology
@ 8:15am
Let Josh Bersin give you a roadmap for your HR technology initiatives. The head of Bersin by Deloitte promises to describe the new architecture for HR technology, and help you understand ways to bring AI, cognitive computing, apps and a new breed of systems into your organization. You'll also come away with strategies that will enable your team and processes to become more real-time, productive, agile and data-driven.
Culture vs Compliance: How to Maintain a People-First Culture While Complying With Labor Laws
@ 9:30am
Before leaving HR Tech with new ideas for your programs, consider the role that compliance will play in rolling these out. Leaders from Facebook and Replicon will walk you through best practices for developing an innovative culture while abiding by labor lazes and utilizing the latest in HR technologies.
During your breaks, be sure to come by the Visier booth (#1320) and get answers to any questions you have about workforce analytics, workforce planning, or talent acquisition analytics.
About the author: Karra Barron
Karra Barron is Visier's Sr. Content Marketing Manager and has over a decade of experience using storytelling to move people into action. At Visier, she is responsible for developing a wide range of thought leadership resources that educate and inspire business users to become data-driven leaders.
Be the first to know!
Never miss a story! Get the Outsmart newsletter.
Related Articles
LEADERSHIP
Here are 18 of the most-shared HR articles of 2017. Their common theme? HR that doesn't just execute, but leads and drives meaningful change.
TRENDS
Need to uncover insights from your learning data to stay ahead of compliance risks? Here are a few ways analytics helps you achieve this.
CULTURE
Will 700,000 employed DACA recipients be pushed out of the country's workforce?