Workforce Analytics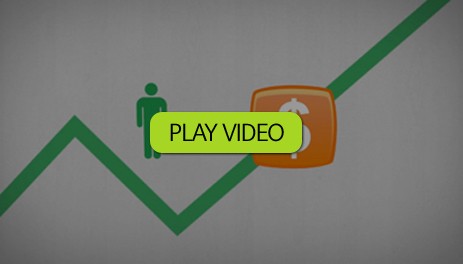 Visier offers a complete and instant workforce analytics solution that addresses the organization's needs from accessing data, through to sharing new-found insights with people that have a need to know. Designed to be rapidly deployed with a consumer-like easy to use interface the Visier solution integrates data from all needed sources, and comes pre-built with best practices so management can focus on making better decisions immediately to impact their most important asset: the people.
With Visier Workforce Analytics one can:
Access the critical HR data. Integrate HR data with business data to create a unified view of productivity and business outcomes related to the workforce.
Measure, monitor and report on the workforce. Best-practice HR metrics are delivered out of the box and integrated into powerful HR reporting and HR dashboards.
Predict and plan for the future. What-if analysis and pre-built predictive models allow one to forecast and plan workforce strategy to support the business objectives.
Share valuable insights. Collaborate through online interactive presentations, or distribute insights to qualified stakeholders.
Read
Workforce Analytics Datasheet: Move from HR Metrics, to Powerful Workforce Analytics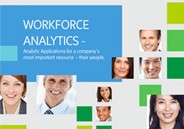 Download Datasheet
Online, Offline, On-the-go
Decisions happen everywhere in modern organizations: meeting rooms, on the road, in the hallway and wherever people connect and collaborate. Visier Workforce Analytics simplifies the sharing of critical insights into your workforce with a simple click-to-capture workflow. Download reports to Powerpoint, interact with reports online, or send interactive reports to an executive with a mobile device. Visier Workforce Analytics is designed to support how your organization makes decision.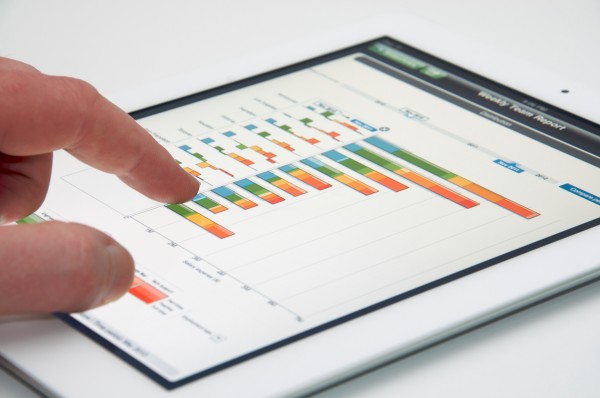 Make the Connections
The most important part of any workforce analytics project is ensuring you measure what matters. To measure what matters you need to see the connections in your HR metrics. Visier has pioneered a topic-based approach, we call the Topic Guidebook, which allows you to see related metrics and understand where your organization stands, plus contributing factors, for business relevant topics. Pre-built to cover such topics as: retention, productivity, pay equity and many more, the Topic Guidebook takes the guessing away from your analytics. Take a guided tour of your workforce data to determine where to focus, and what actions to take to start optimizing your workforce.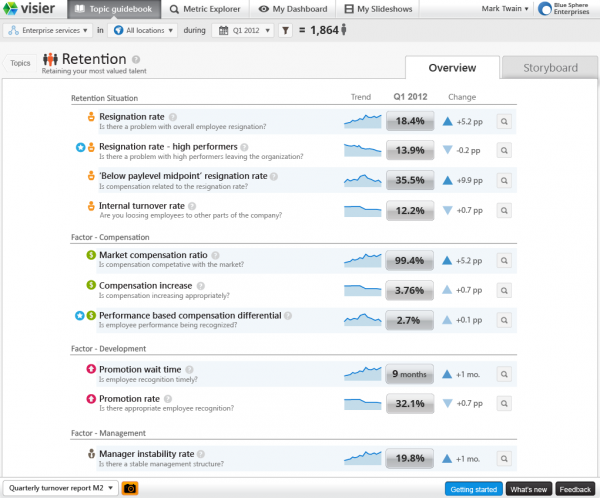 See the forest, and the trees
Executives want the big picture. Business leaders need to see just their world. HR professionals need to know the details.
With Visier Workforce Analytics, you can create personalized Dashboards, slice by roles, locations, time and any dimension
your business needs. Visuals are interactive to highlight details, or let you explore data in an intuitive way. Go from the
corporate dashboard, to the detailed list of new employees in a single integrated experience.
Gain the Benefits of the Cloud
Focus on outcomes, not technology. Visier deliver a complete solution that starts with the services to
integrate your data – wherever it may live – to rich interactive visuals that highlight critical insights.
There is no need to provision, deploy, manage and maintain complex systems.
Access

As part of the onboarding Visier will work with you to integrate data from the various systems – PSFT, SAP, payroll systems, talent management systems, databases or spreadsheets – to provide you with a comprehensive view of your workforce data.

Measure

Pre-built best-practice metrics allow you to jumpstart your workforce analytics. An innovative topic approach makes connections across metrics to highlight key issues and related factors to guide you to the most important insights.

Predict

Sophisticated predictive techniques highlight and find insight for you. Gain the benefits of advanced predictive techniques without the need for a degree in statistics. Issue or outlier highlighting, top talent at risk of leaving and many other benefits can be gained from pre-built predictive models.

Share

Collaborate and share insights with stakeholders. Create slideshow reports and download them in Powerpoint, or send slideshows to leaders for online interactive consumption. Or consume slideshows on-the-go on your mobile device.
Powerful and Predictive
Predictive analytics has the power to highlight trends and discover insights that otherwise would go undetected – if you have the experience and training to create predictive models. Visier Workforce Analytics takes out the difficult step of creating predictive models and pre-builds them focused on best-practice applications to discovering insights about your workforce – why are people leaving, who is most likely to leave next, what is driving raising compensation costs, and many more critical insights.