Technology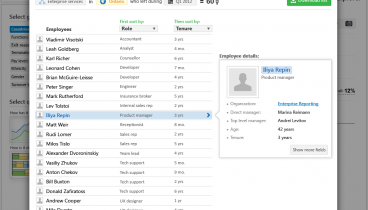 Visier was built from the ground up with the latest analytic techniques, including some of our own unique innovations to provide for a better solution that can grow as your business grows. Ultimately, the goal of technology is to allow people to focus on thought and creative processes. To this end, Visier has automated the data collection, integration and cleansing, and has made the process of discovery interactive and intelligent to guide the user to the problem areas and insights most appropriate for the topic that was selected. Further, the data management engine allows for instant answers to a question regardless how much data must be consumed to produce the result, or how many dimensions needed to be assessed to identify the right trend.
Predictive
Spend less time searching and slicing for insights, and more time understanding the impact of those insights to your people and business strategy. Let the Visier solution do the hard work of finding the hidden trends or problem spots.
User-Experience
The one critical element that most business technology solutions fail to deliver is an engaging and rewarding user experience. Visier has differentiated itself above all by a beautiful, intuitive and interactive interface. Everything the user needs is presented in a way that produces immediate results. Visier was designed with the idea that people want to 'see and experience' insights, not slice and dice through endless data pivots.
In-Memory
Users continually ask for analytics without bounds: more data, with faster response, and deeper insights. In-memory promises to revolutionize analytics, and Visier is a pioneer with a flexible row- and column-based in-memory engine powering Visier's analytic solutions.
Data Integration
The greatest challenge to any analytic project is data integration. Without consistent, complete and clean data one cannot trust the insights analytics provides. Visier solves the technical challenge through a flexible analytic engine and data model that starts with the user questions in mind. As a consequence, only the data needed to answer the question is collected, simplifying the usually long and expensive process of building generic data warehouses. And if the source data does not exist, the Visier solution is often smart enough to interpolate other data points to fill in the blanks.
Cloud
Remove the burden to provision, deploy, maintain, and monitor software through a professionally managed hosted solution. Visier is a complete and secure multi-tenant solution for workforce analytics needs that allows one to focus on what really matters: managing the human capital.
Security
If people are the most important asset, data on people needs to be one of the most secure. Visier's analytics comes with multiple layers of security across networking, infrastructure, facilities, processes, and the application itself to provide the user with complete confidence that their data will be protected and only qualified and authenticated people will have access.
Collaboration
Visier Workforce Analytics deliver insights that allow the users to make decisions to improve their business. The discovery process is easily recorded and securely shared using a variety of 'storytelling' approaches. Visier was built from the ground up to make it easy to share and collaborate on insights to ensure insights become action.