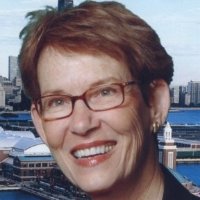 Please join your peers at Il Gabbiano in Miami on Thursday, March 16th for an evening discussing HR leadership best practices. Your host and moderator will be Lexy Martin, Principal of Research & Customer Value at Visier, 40-year HR veteran and former lead author of the Sierra-Cedar HR Systems Survey, the longest running and most acclaimed HR tech survey.
Hear from Kathy Cook, VP Human Resources, Ingersoll Rand, who will share her insights on how they are outsmarting and outperforming the competition with workforce analytics. Come prepared for a thought provoking, inspiring, and frank exchange of views and experiences in the comfortable context of a friendly dinner.
"We use data and analytics every day to make better business decisions…so why should decisions around our workforce be any different? Visier will fundamentally change and accelerate this journey for Ingersoll Rand."

Kathy Cook, VP Human Resources Ingersoll Rand
Learn how you too can help your organization to outsmart and outperform with great people insights and strategies.
Event Details:
When: Thursday, March 16, 2017
Arrival & Cocktails: 6:00 PM | Dinner & Discussion: 6:30 PM to 8:00 PM
Where: Il Gabbiano | 335 S. Biscayne Blvd Miami, Fl. 33131 (One Miami) Directions

Please Note: Due to the exclusive nature of this event registrations will be reviewed for acceptance – attendees must be VP level or higher, HR executives, and select direct reports.
Host and Moderator:


Lexy Martin
Principal of Research & Customer Value, Visier
A sought-after thought leader and speaker, few researchers in the field of HR technology can match the experience that Martin has accumulated during her career in introducing emerging technologies. Prior to joining Visier, Martin was Vice President, Research and Analytics at Sierra-Cedar where she assisted organizations worldwide in defining strategies to implement enterprise applications by providing visioning, strategy development, process innovation, value analysis, and business case development. She also developed major change management and organizational learning programs to accompany the introduction of new initiatives and technologies to promote their success. Martin was also the lead author and director of the Sierra-Cedar Human Resources Systems Survey, the longest running and most acclaimed Human Resources technology survey. Read more: Lexy on Workforce Intelligence Blog and Visier Appoints Lexy Martin Principal of Research and Customer Value
Speakers:
Kathleen E. Cook
Vice President, Human Resources and Communications Residential SolutionsKathleen (Kathy) E. Cook is Vice President, Global Processes and Analytics for Ingersoll Rand, with responsibility for Operational Excellence, Workforce Analytics, data governance and technologies and planning.Kathy was most recently Vice President, Human Resources for Compression Technologies and Services, which she joined from Ingersoll Rand's Residential sector, where she served as vice president of human resources. Kathy has held a variety of finance, operations, project management and human resources positions across Ingersoll Rand's many businesses, including Climate Technologies, Construction and Mining, Torrington's Industrial and Automotive Divisions and Corporate Center since she joined in 1987. Prior to joining Ingersoll Rand, she worked for two years at First Pennsylvania Bank as a management trainee.Kathy is a graduate of the University of Pennsylvania's Wharton School, where she received a bachelor's degree in economics, majoring in finance and marketing. She also earned an MBA from Lehigh University.
| | |
| --- | --- |
| | With over 52,000 employees Ingersoll Rand (NYSE:IR) advances the quality of life by creating comfortable, sustainable and efficient environments. Our people and our family of brands — including Club Car®, Ingersoll Rand®, Thermo King® and Trane® — work together to enhance the quality and comfort of air in homes and buildings; transport and protect food and perishables; and increase industrial productivity and efficiency. We are a $13 billion global business committed to a world of sustainable progress and enduring results. For more information, visit www.ingersollrand.com. |