HR Reporting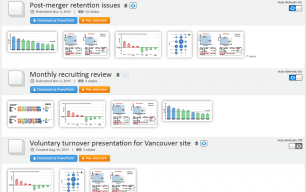 Visier's Workforce Analytics solution is designed to make the sharing of insights as seamless as possible. Every visual in the Visier Workforce Analytics solution, whether a complete dashboard, a rich visual, or a single chart can be captured at any point in your analysis to share your discovered insights either as an online interactive presentation, or as a MS PowerPoint presentation, or you can send a link to an iPad for a mobile distribution. With Visier's HR reporting you can:
Increase efficiency by seamlessly capturing discovered insights into slide shows while you are performing analysis on your workforce data
Collaborate through the online sharing of interactive visual slide shows
Download as MS PowerPoint any slide show to distribute and share your story of discovered insights
Increase productivity and information sharing by creating slide shows that are refreshed and broadcast with the latest data
By providing a rich set of functionality to make it easier to capture, share, refresh, focus and collaborate on information Visier's Workforce Analytics solution helps companies to turn insights into actions. Change in an organization comes about only people align on key insights that support the need for action, and only through sharing information can this alignment be achieved. Visier's HR reporting was built to help streamline this collaboration on information by delivering reports in a story format that make it easier to understand the actionable insights.