HR Metrics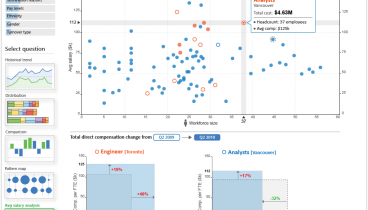 Visier's HR metrics simplify the challenging task of answering the most important question in any HR analytics project: What to measure? Pre-built HR metrics simplify the difficult human capital management task of trying to determine what to measure by delivering best-practice HR KPIs. Out of the box, Visier provides the core metrics, related sub-metrics, visual analytics to obtain insight into the data, traffic lighting to set goals, and the flexibility to configure the metrics to unique processes in each organization.
Companies have long understood that if one is to expect something to get done, it must be inspected (i.e. measured). KPIs and metrics are a powerful tool to change behavior and improve performance.  Studies have shown that 78% of organizations that implement metrics programs see improved performance and changed behaviors. Visier's HR metrics are a part of Visier's Workforce Analytics solution, and can help organizations achieve:
Faster return on investment thanks to Visier's Cloud architecture and flexible data modeling technology that allows for deployments to be completed within a few weeks, and new insights to be discovered instantly
Greater insight with guided navigation for novice users to focus in on what is the most important information, and flexibility for power users to dive into the details. For all users, predictive algorithms simplify the challenge of finding the key insights and trends.
Wider adoption and user satisfaction with stunning custom visualizations of data that allow users to see insights, and a consumer-like user experience designed to be highly intuitive that finds and surface key insights for users. Insights can be shared through shared dashboards, links to slide storyboards or downloads of slides or iPad presentations. Security is role-based to enable the user to see just the data they are authorized to see.