HR Dashboard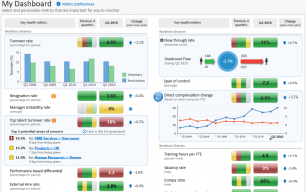 Visier's HR dashboards provide for a modern, intuitive and complete view of the most important information on your workforce. Designed to be both flexible and highly visual, Visier's dashboards allow one to instantly focus in on the most important insights about the workforce. With Visier's HR dashboards one can more easily monitor important workforce data; deliver stunning, streamlined and interactive visuals to executives; and find insights critical to optimize the business. Achieve all of this and more through:
Traffic lighting that allows for clear and customizable goal setting to enable monitoring of achievements to set targets.

Gap-To-Green logic, which automatically finds outliers in the data so there are no surprises hidden in the underlying data.

Stunning visuals with one-click transitions to view information in new ways to find additional insight.

Intuitive configuration that allows one to drag and drop to showcase information that is most important in summary or detailed views. Or turn off information that is not critical.

Ever-present tool tips providing additional contextual and explanatory information on virtually every data point and KPI

Links to deep dive analysis on every dashboard element, and an easy ability to navigate across the measures from any perspective through unlimited hierarchical organizational structures

Built-in help features every step of the way
Dashboards create the most direct way to focus in on what are the most important facts to monitor. HR dashboards provide the heads-up display into the organization's workforce so one can monitor progress to goals, or instantly see trends on critical measures. Visier's HR dashboards are an integrated part of the Visier Workforce Analytics solution that not only have the capability to monitor, but go beyond to provide an automatic and interactive way to discover new insights. With Gap-To-Green logic that finds insights and surfaces warnings about outliers, customizable goal setting and pre-built visuals to understand critical information executives, analysts and line-manager alike can gain instant insight into their critical information.
Visier dashboards can be configured for each user and are security authorization sensitive, allowing each user to access only the data for which they have the rights to see even if the dashboard had been prepared by a user with broader authority. This way, dashboards can be distributed without the risk of losing control of the information they contain.