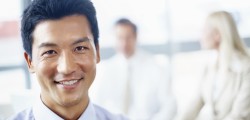 Achieve a unified view of workforce data. Bring together data across business systems & HR systems. Incorporate cloud & on-premise data.
Head of HR Technology (HRIS, Analytics, Strategic Planning)
Get ahead of the curve with Visier Workforce Analytics
As the technology leader of the HR function, you have the challenge of providing management with the tools to manage the workforce. Automating people management processes is complex enough. Collecting all the internal and external data and presenting a comprehensive fact-based insight into the outcome of the people management processes is a challenge of a different scale. With Visier, you eliminate the problem of data integration, defining metrics and best practices, establishing a secure and easy to use experience for the user, and creating a platform for user self-service and mobile access.
HR leaders, and business leaders, are increasingly requiring trusted data and deeper insights into their workforce. At the same time HR is in the middle of a technology revolution with unprecedented investment in systems to improve the HR processes. As the technology footprint of HR applications change they bring with them new challenges. Each of these systems is collecting more data than the system they are replacing. No single system unifies all HR functions so data is spread across applicant tracking, talent management, payroll and other systems. Add to these the widespread use a new cloud based solutions, in combination with legacy on-premise solutions, and there is a massive challenge to unlock the important insights in all this data.
With Visier's Workforce Analytics solution one can: Achieve a unified view of workforce data. Bring together data across business systems and HR systems. Incorporate third party, cloud and on-premise data. Visier Workforce Analytics incorporates data from any source to produce a single view across spreadsheets, data marts, HR applications, business applications and external benchmarks.
Streamline the delivery of information. The need for information is ever increasing, and analysts are struggling to keep up with the business's demands. Visier Workforce Analytics simplifies the task of finding and sharing information with guided workflow to find insights, pre-built analytics to focus on the right questions, and a simplified slide-capture technology to share insights. With an intuitive user-experience including advanced techniques to find outliers and gaps to goal one can confidently deliver self-service analytics to the organization.
Deliver new insights with predictive analytics. Visier Workforce Analytics goes beyond the need organizations have to deliver standard information and can find new patterns and predict trends. With advanced clustering algorithms and models that come pre-built, one can gain the advantages of advanced analytics techniques without the need for a degree in statistics or expensive data scientists.